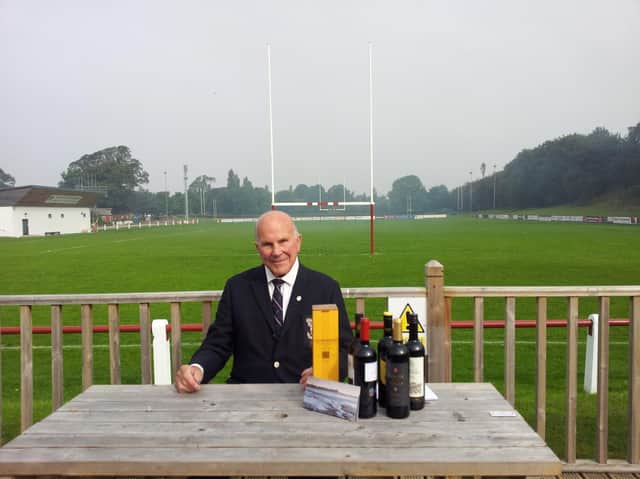 Iconic member of the Vale of Lune Rugby Club, John Gill, at his 80th birthday celebration.
John Gill, who passed away on Sunday October 18 at the Royal Lancaster Infirmary, was a highly respected member of the Vale of Lune and during his long association he had represented the first team, was elected Chairman, President and was an Honorary Life member.
He was born in Ingleton, the youngest of four boys and when he was five the family moved to live in Lancaster. Eventually all four boys went to Lancaster Royal Grammar School when he became an accomplished athlete, where he set a long standing record for a javelin throw, in addition to making his mark as a rugby player.
John worked at Storeys Bros., in Lancaster for most of his working life and when Storeys closed he moved to Barnoldswick to work at Wardle Storeys and it was while living there he became secretary of the local golf club, fittingly called Ghyll Golf Club where he was secretary for 20 years before moving back to Morecambe.
He and Margaret were married in December 1956 and in 1959 Stephen was born and Maria in 1962. Margaret and John were both keen tennis players and became a formidable duo on the courts. They also had a lifelong passion for dogs and could be seen frequently walking them around Happy Mount Park.
Shortly after John had made his first team debut for Vale over at Blackburn in 1952 as a 17-year-old he was called up for National Service where he completed a tour of duty in Korea. His first game back following his demobilisation was against Harrogate in 1954.
John Gill was an uncompromising forward in an era now confined to sepia photographs and monochrome films but as a forward he was quite unique because he could kick goals from almost anywhere within range of the posts. He was able to give the heavy leather balls of his era a hefty thump via his to toe cap. In March 1957 in Vale's 97-3 victory over Lancashire Constabulary he converted 17 tries including one of his own, a try being worth three points at the time.
When he eventually hung up his boots he became a diligent assessor for the highly acclaimed Manchester and District Referees Society in 1968 and was later made a Hon Life member.
He was Chairman of Vale when they celebrated their 75th Anniversary and President for their Centenary Season in 2000, a hard working ambassador on behalf of the club. In recent years he slipped easily into the role of elder statesman, regularly attending the monthly meeting where the wisdom he has accumulated helped to guide the club in its decision making with his deep knowledge of the club's constitution and rules.
John Gill's death has left a void but his legacy will stand the test of time at the Vale of Lune. However, when the memories surrounding John Gill begin to fade with the passing of time a glance at the President's Honours board in the clubhouse, where his name is inscribed in gold leaf will act as a reminder of the position he held within the Vale of Lune RUFC, and even as the generation gap widens this link will remain.