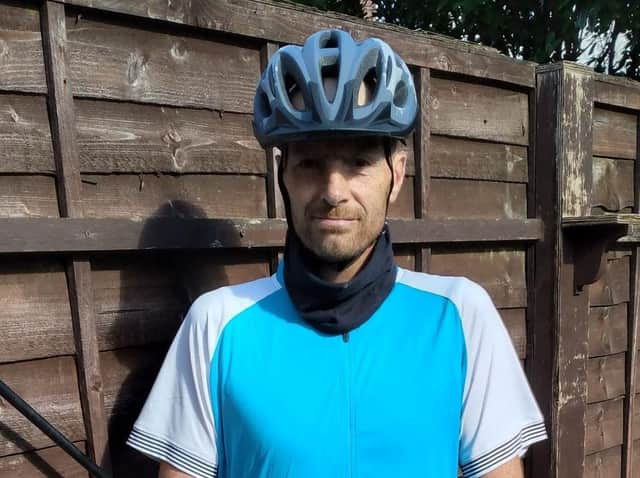 Terry is preparing to ride almost 2,000 miles on September 17.
The challenging feat, that spans 874 miles each way, will see Terry ride his bike from one end of the UK to the other, in a bid to raise enough money to begin a youth support centre.
The 48 year old, currently living in Blackpool, had a 'very troubled' upbringing that led him down a road of drug use and crime, and claims his experience can help him guide youngsters who are facing the same struggles he once did.
"I have had a rough time myself, been passed through the care system and faced abuse as a child. I know what a life of drugs can do to you but I don't let my past harm me or damage me. I just want to make a difference to other people," he said.
"I have been in trouble with the criminal justice system for most of my life but now want to make a positive change to other people. If I can stop just one person going down the same road I did, then I will be happy.
"At the end of all this, I am trying to build an academy or youth club where youths can be taught the real consequences of crime. I want support workers there to educate them on the use of drugs and their consequences. I want young people to really consider the risks, it's all about catching them at the right time in their life and hope to raise enough funds with this challenging cycle."
In a bid to raise £50,000 across Facebook and Paypal fundraising pages, Terry will be putting his body through the physical and mental challenge through the bike ride he calls 'The bike ride from hell to create a heaven' on September 17.
With support from Red Rose Recovery, a Preston-based organisation that supports those recovering from drug or alcohol dependency, Terry is hoping to raise enough money to use his experience to guide youths across Preston and the North West.
Since being released from a stint in prison in 2010 for armed robbery, Terry has also started a Youtube podcast called the Balaclava Blogger, with support from local drug agencies, interviewing other ex convicts and drug users about their experience and recovery.
He said: "For the scheme, the podcast aims to include people who have had similar upbringings and pasts that have led them on a road down criminality but are now clean and in recovery.
"I ask them questions and find out information about their past to be able to inspire people to not follow that same road because there really is some gruesome stories. It is to scare youths to not fall down that dangerous path and hope that at the end of all this, I can build my youth support group.
"I am all set to go on my bike ride, but it is really extreme and I need people behind me and supporting me so I can make a big impact and difference. I am putting my body through it for a good cause and know that it will not be easy."
Information about the challenging bike ride and ways to donate via Facebook or Paypal can be found at