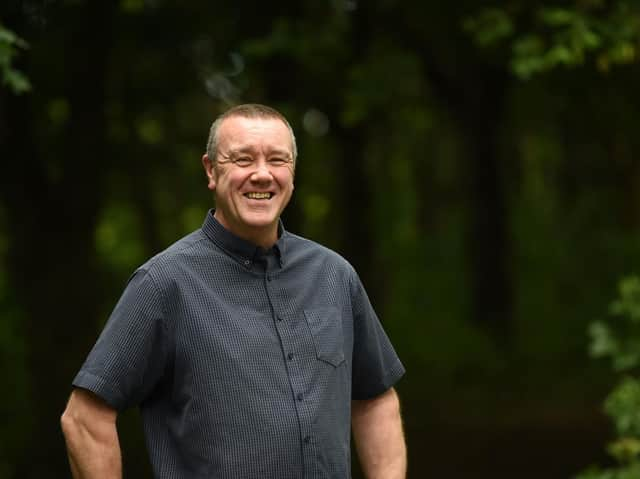 Chorley man Simon Ashworth used exercise to help beat depression after his business collapsed.
But despite painting a glossy picture of his life on Facebook in May 2017, Chorley man Simon Ashworth soon became so depressed that he attempted suicide three times.
Commenting on his luxury holidays and new chapter as a business owner, the 50-year-old said: "Life couldn't be much better, could it? On the face of it, no: all the posts on Facebook made it look like I was on cloud nine; not a care in the world.
"That's the thing with depression and mental health problems - you learn to become a great actor."
Simon turned his life around after having NHS treatment and joining a men'sexercise group called The Transform Hub inBroughton Business Park inFulwood.
But as the months went by, his business started to crumble.
Simon, formerly of Preston, said: "I took all our savings and got a credit card in an attempt to prop the business up. I even went months without getting paid. Luckily for me, my partner at the time had a well paid job and I just kept saying everything was okay.
Alongside his business, his mental state also took a nosedive.
"By June 2019 my depression was as bad as ever: no social interaction, no eating, no sleeping; just the constant worry about the business and the mess I was in," said Simon, who has one step-daughter.
"At no point did I talk to anyone. I felt so isolated and alone but the actor in me kept playing his part."
Eventually he became so unwell that he reached a point where he could no longer pretend that everything was OK. Terrified of reaching out to others, he made a heart-breaking decision.
"I left home one Sunday, leaving behind the home I had built and whatever money was left in the account," he said.
"Two weeks later, I attempted to take my own life by overdose. How I survived I don't know. I couldn't even kill myself, that's how pitiful [I felt] I was."
By the end of September, the business was struggling to operate on a day-to day-basis.
"Like the fool I was, I thought some miracle would happen, but they never do. It was like putting a plaster on a severed artery," Simon said.
"On October 28 I decided that I had simply had enough and that suicide was the only way out. I went to every supermarket I could find and bought as many pills as I could. I had made a noose the week previous and it was time for me to check out.
"I went back to the flat, and washed down pills with a bottle of wine, hoping they would do the trick. They didn't.
"I woke up on Monday morning even more depressed. So I tried to hang myself."
Luckily, his attempt failed.
"One day, after four hours up and down the M6 thinking about how I could end it all, something clicked in my head and I took myself to Royal Preston Hospital. I got triaged but left before anyone could see me," he added.
"At 4am, the police were knocking on the door and they advised me to return to RPH and most importantly, to talk to someone."
And then came the life-saving treatment he so desperately needed.
"I was transferred to a mental health facility in Harrogate for three weeks where I learned so much, especially the need to talk," Simon said.
"I found it an amazing place, and realised I wasn't alone and that the need to talk to anyone when you are down is so important. All the staff there were amazing, and they helped me so much. I wouldn't be where I am now without their help."
And, he added: "While I was there the business was put into liquidation and that was such a massive weight off my shoulders."
Simon, who now works as an acting supervisor for Amazon in Leyland, was determined to turn his life around and build a solid support network around himself when he left the facility. So when he saw a Facebook post about a men's exercise group called The Transform Hub in Broughton Business Park in Fulwood, he decided to give it a shot - despite worrying it could be a scam.
And since the day he first set foot in the studio, he hasn't looked back, considering the staff and other members to be "like family" and having lost an inspiring 10.1kg in just four weeks.
Commenting on his transformation, he said: "I feel amazing! I honestly cannot believe it, nor can my family and friends.
"This place has given me confidence and I have no issue with talking to anyone about what I have been through, all in the hope that it will help someone who is in the position as I was two years ago.
"It's a long road ahead; depression isn't something you can turn off. I'll be on medication for the rest of my life but The Hub is such a massive part of my long-term rehabilitation and I can't thank all the staff and members enough."
If you are struggling with suicidal thoughts, please call your local Home Treatment Team on 01772 773433 (Preston) or 01772 773525 (Chorley and South Ribble).
Alternatively, contact Samaritans for free at any time on 116 123 or [email protected]