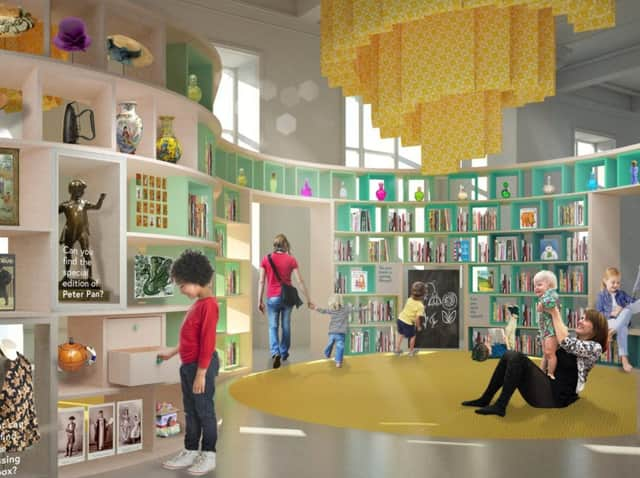 The planned Children's Space (Photo: copyright Ralph Appelbaum Associates)
The £150,000 donation, given to the Friends of the Harris charity, will contribute to the city venue's £10m #HarrisYourPlace development plans.
The Friends will use the cash to benefit young people, supporting an innovative and ambitious project to redevelop the children's library space with children's books displayed alongside art and history objects. This forms just part of the planned changes to the Harris.
Facilities are to be improved for school groups and families and "inventive and playful interpretation and digital access" will be available to visitors to the children's library.
The #HarrisYourPlace project will redevelop the Harris and reimagine its space to equip it for the next 100 years
The redevelopment project follows consultation with users of the children's library last year.
Despite both being beneficiaries of philanthropist Edmund Robert Harris' legacy to Preston it is the first time the Harris Charity and the Harris museum, art gallery and library have worked together.
Edwin Booth, Chair of the Harris Charity Trustees, said: "My Great Great Grandfather Edwin Henry Booth was a founding trustee of the Harris Orphanage whose sale in 1985 created the Harris Charity which supports young persons in difficulty and also helps ensure that their talents are not constrained through lack of funds. Edwin Henry had been an orphan boy at the age of 11 and he was keen to encourage disadvantaged youngsters in all walks of life to find fulfilment."
He continued: "The Harris trustees and I are proud to provide funds to help the Friends of the Harris support the creation of a place of discovery and learning for children and their families in the iconic Harris museum, art gallery and library building as part of the #HarrisYourPlace project."
Edwin Booth, Chair of the Harris Charity trustees
Greta Krypczyk-Oddy, Chair of the Friends of the Harris, said: "The Harris Charity are making a huge difference for Preston children by helping the Harris to create a fantastic new space for families and schools. We are very grateful to the Harris Charity trustees who will help to revitalise the Grade I listed Harris for the next
100 years, with spaces and services which meet the needs of Preston people. All of the money that we raise locally helps us to generate larger national grants which will ensure the full £10 million #HarrisYourPlace project goes ahead. This grant is a huge step forward."
It's planned that the new children's library facility will open in 2024 following a two year construction period, during which the library service and family activities will be delivered at other venues around the city. It is intended the new children's area will meet the practical needs of families and be a fun and creative space.
* The Harris Charity provides grants to organisations to help young people under the age of 25 years who live in Lancashire (with priority for those living in Preston). Its roots can be traced to the legacy left to Preston by Edmund Robert Harris in 1877. See www.theharrischarity.co.uk
*The Friends of the Harris have supported the work of the museum, gallery and library since 1973. See @harrisfriends and www.theharris.org.uk/support-us/harrisyourplace or email [email protected]
* #HarrisYourPlace, the £10m plan to revitalise the Harris for the next 100 years is a partnership project led by Preston City Council, Lancashire County Council and UCLan, supported by the National Heritage Lottery Fund, Arts Council England, the Preston, Lancashire and South Ribble City Deal and local supporters
* The Lancashire Post is more reliant than ever on you taking out a digital subscription to support our journalism. For unlimited access to Lancashire news and information online, you can subscribe here: https://www.lep.co.uk/subscriptions