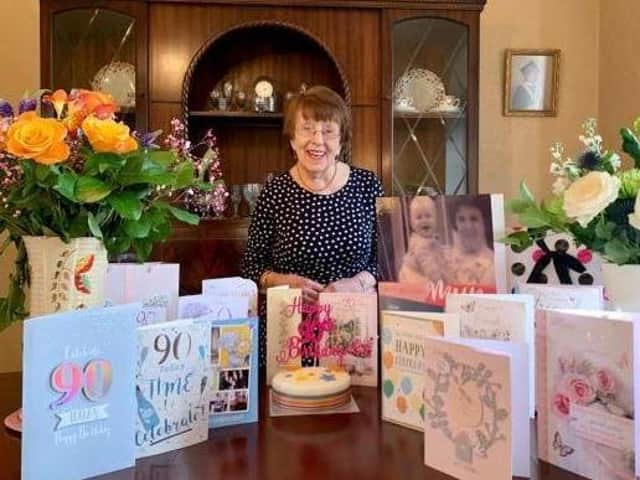 Margaret celebrates her 90th birthday
Margaret Sherlock - thought to be Britain's longest working hairdresser - can't wait for lockdown to end so she can get back to work.
Despite just celebrating her 90th birthday, Margaret, who has had her own salon - Hair by Margaret - in Stratford Road, Chorley for almost 64 years, has no plans to call it a day.
Margaret completed her apprenticeship in Aughnacloy, County Tyrone, Northern Ireland, but there was little demand for hairdressers so she trained as a nurse in Omagh.
Margaret in the salon in the seventies
In 1952 she came to England with her sister, Betty and they both worked at Eaves Lane Hospital.
Later she married Frank, who died 12 years ago, and when her daughter Linda was born in 1956, she opened the salon in her front room on the day she took her new baby home from Chorley Hospital.
She said: "I only intended to run the salon until Linda went to school but the business grew and Frank joined me in the hairdressing trade. When my son Adrian was born in 1962, I decided that I would carry on so that I could be around for both of the children while they grew up."
On her 90th birthday Margaret received a surprise when she got a personal video call from Irish international singing star Daniel O'Donnell who called from his home in Donegal.
Margaret as an apprentice
"It was certainly a day to remember," said Margaret.
"But I can't wait until the day when I can get back to work!"
Margaret also received a surprise birthday phone call from BBC Radio Lancashire and North West Tonight presenter Graham Liver who has visited the salon in the past when she celebrated 60 years in business and in 2018 when she was the overall winner in the BBC Community Hero Awards.
She received her award to a standing ovation at Preston Guild Hall from Britain's Got Talent winners Collabro who later invited her and the family as their special guests at one of their concerts. Chorley MP and Speaker of the House Sir Lindsay Hoyle described her as "an inspiration" at the ceremony.