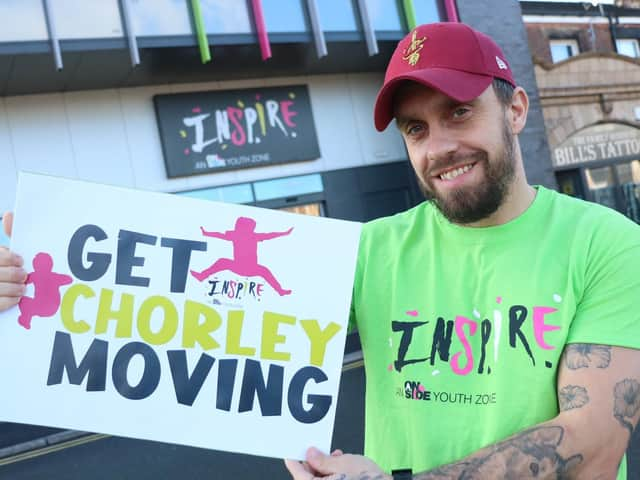 Danny Coyle
.And it comes as dawn begins to break on lockdown at last - with Prime Minister Boris Johnston yesterday revealing the Government's plans for easing restrictions.
The charity, based in Chorley town centre, which has adapted its services throughout the pandemic to continue supporting thousands of local children, young people and their families, has launched the six-week programme to encourage people to get moving for at least one hour a week, in any way possible, from jumping jacks to squats to skipping.
Their mission is to get everybody moving in lockdown and beyond, whilst also having plenty of fun and for those that can, help to raise much needed funds for the charity.
The Get Chorley Moving logo
Danny Coyle (pictured), Get Chorley Moving sports coordinator at Inspire, said: "We can't wait to get the town moving again!
"At Inspire, we've seen first-hand the challenges and difficulties young people and children from Chorley have faced during the pandemic, especially being stuck in their bedrooms and behind computer screens.
"There is a greater need than ever for them to become more active and we hope 'Get Chorley Moving' will not only encourage children and young people to focus on their physical well-being but household family members and bubbles will join in the fun too."
Throughout the pandemic, Inspire Youth Zone has continued to adapt their delivery providing support to young people and the wider community.
Since March 2020 the charity has introduced a young person's crisis helpline along with making thousands of welfare calls and visits, provided mentoring and 1:1 sessions and distributed over 3,000 free meals to hungry Chorley families.
Janine Blyther CEO at Inspire Youth Zone said: "The whole team at Inspire Youth Zone has been determined throughout the pandemic to provide consistent help and support to the boroughs children and young people.
"As schools now start to make plans to welcome back more pupils, it's so important to make sure that children's and young people's mental and physical needs are also being met.
"By exercising for just 10 minutes a day it will significantly help young people to adjust to going back to the classroom, reducing anxiety, releasing feel good endorphins and improving their overall physical and mental wellbeing."
To find out more and sign up to take part visit: www.inspireyouthzone.org/get-chorley-moving/ or email: [email protected] or ring: 01257 228888