Galloway's is inviting fundraisers to join them in Not the Morecambe Bay Walk
Sight loss charity Galloway's is asking the community to recreate their own socially distant version of the Morecambe Bay Walk and raise vital funds for blind and partially sighted people across Lancashire and Sefton.
Saturday, 23rd May 2020, 12:30 pm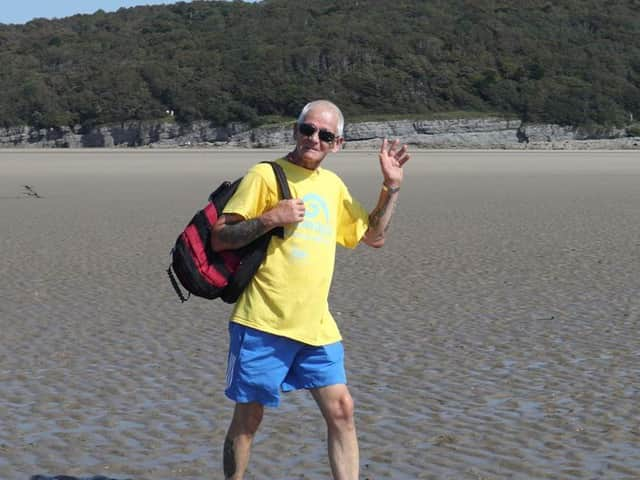 Terry Hazell, who took part in last years Morecambe Bay Walk, encourages people to get creative and walk eight miles, but not across Morecambe Bay without the Queen's Guide.
The annual eight-mile event had been planned for the weekend of May 30 and 31, but following the coronavirus pandemic, Galloway's is asking people to talk part in Not the Morecambe Bay Walk instead.
Participants are invited to walk eight miles in any way they can during June and get sponsored.
This can be done in the garden, in the house, on the treadmill or during daily exercise outdoors.
Two people taking part in a walk observing social distancing rules.
It is up to individuals how they complete the eight miles, as long as they stick to the government's social distancing rules. Fundraisers might want to run or skip, or maybe do a relay with family members. The fun is in the creativity.
Registration is free and everyone who takes part and sends in sponsorship money will receive a Morecambe Bay Walk water bottle.
People can sign up via: www.galloways.org.uk/not-the-bay-walk.
Participants can help raise funds for Galloway's by setting up a Facebook or online fundraising page or asking people to make a donation via the website: www.galloways.org.uk/walkers-donation.
Fundraisers can also send a cheque payable to Galloway's Society for the Blind via post to: Not the Morecambe Bay Walk at Howick House, Howick Park Avenue, Penwortham, PR1 0LS.
People are advised not walk across Morecambe bay, as it is unsafe without the official Queen's Guide.
Nicola Hanna, Head of Income Generation and Communications, said: "The iconic Galloway's Morecambe Bay Walk unfortunately won't be going ahead this year due to the Coronavirus pandemic but we are asking you to take part in a different way.
"The event is crucial to Galloway's as it raises much needed funds so that we can provide amazing services to people who are living with sight loss.
"Last year, we had more than 800 people walk the iconic Morecambe Bay from Arnside to Kents Bank and this year, we had hundreds of people interested. So we hope you can all support us in turning the Not the Morecambe Bay Walk into a successful fundraiser, helping us continue our services for people with sight loss."
Fundraisers are being encouraged to send in pictures and videos of themselves taking part, which can share on social media. These can be sent to the Galloway's Society for the Blind Facebook page or emailed to [email protected]
This event is sponsored by FWP architects.
Galloway's, which has sites in Penwortham, Chorley, Southport and Morecambe, supports more than 7,000 blind and partially sighted people across Sefton and Lancashire.