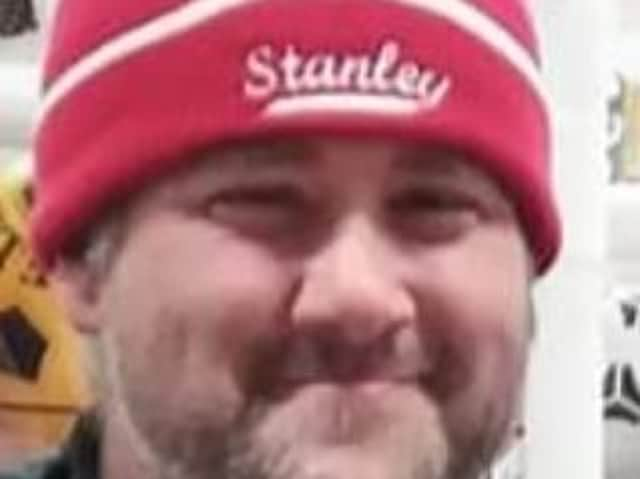 Keith Chew Jr with his beloved Accrington Stanley hat
Keith Chew Junior, 40, was sailing with his dad, Keith Senior and a friend off Rossall Point when the vessel began shipping water.
Although Keith Sr and the friend were rescued after the boat rapidly sank, Keith Jr was unable to get clear, despite the frantic efforts of his dad, and he went down with the vessel even though he had a lifebelt on.
His sister, Kelly Chew 38, said Keith Snr tried to hold onto his son, but Keith Jnr was pulled down.
Now a fundraising effort has now been launched in a bid to help cover the costs of Keith Jr's funeral and it has now reached more than £3,000.
The Accrington Stanley fan had many friends in the town.
Kelly said: "Everyone knew my brother, he was very popular. He had learning disabilities so he could be a bit childlike sometimes.
"My dad was his main carer and Keith Jnr was a gentle giant, he would do anything for anybody.
"The reaction to the fundraiser has been amazing, people have been so kind."
There had been big plans to celebrate Keith's birthday 40th birthday last month, but it had to be cancelled because of the coronavirus pandemic.
Kelly said: "Keith always wanted a huge birthday party for his 40th.
"Now we'll have it for the funeral wake instead. The plan is to celebrate his life and all our happy memories of him."
The date of the funeral has not yet been set.
Kelly and Keith Jnr have three other siblings - Leona, Chris and younger brother Ricky.
To donate to the fund, visit: https://www.gofundme.com/f/a-send-off-for-keith