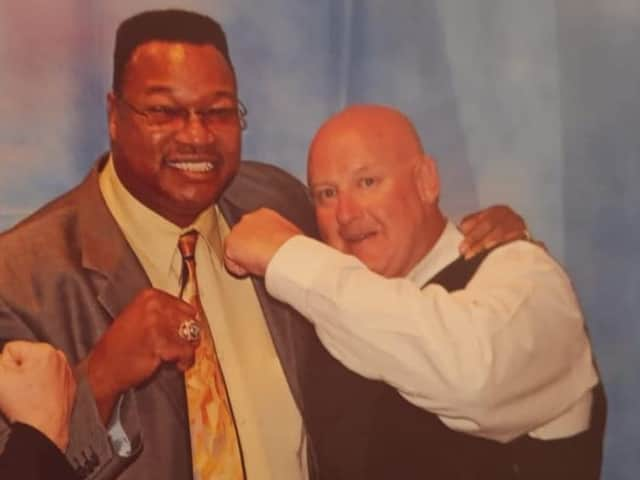 Jeff (right) with former WBC heavyweight champion Larry Holmes (centre)
From being written off completely as a child, beaten up for being too scrawny, and renounced for being uneducated, he rose in stature - both physically and intellectually - over the course of a truly remarkable life. The boy who grew up in East Lancashire dreaming of travelling the world became a man who did just that and so much more.
"I started from the very bottom but I got to the very top," he says.
Born in Burnley in 1956, Jeff was raised in the nearby village of Worsthorne. "It was lovely but, in those days, if you failed you eleven-plus exam, there were very few opportunities for working class kids," says Jeff. "I failed and ended up going to a school called Barden which resembled a prison - it was this old building built in the 1800s.
Jeff Slater as a child in Burnley
"You were told you were a failure and you accepted that label," he adds. "You were stigmatised and categorised as a failure and the teachers had no expectation: it was about confinement and control."
Standing out in all the wrong ways for being particularly small - Jeff says that at the age of 12 he weighed four stone seven - he started to received regular beatings, both at school and on the streets. He resolved to do something about it.
"One other lad at Barden boxed and took me to the Casino Boxing Gym and that's where, at 14, I learned the skills and developed into a decent boxer," explains Jeff. "I'd spar with anyone and I did well, but I was still so thin. So I went to the weightlifting gym and, at 18, I was 12-and-a-half stone."
Starting to find his feet somewhat, Jeff was in the pub one day in 1974 with a group of mates when conversation turned to their desire to see the world.
Jeff Slater in Australia as a 20-year-old
"We dreamed of going to California, which seemed like the place to be," says Jeff. "But, realistically, we realised quite quickly that we couldn't go because of the bureaucratic reasons of us having no money, no skills, and no trade. So, on a whim, me and a mate decided to go to Perth, Western Australia, instead because you didn't need a Visa to go there"
Spurred on by an inclination that while the grass may not be greener Down Under, it would at least be slightly more verdant than in the North West, Jeff and his friend Steve bought a pair of one-way tickets and upped sticks.
"It was the first time I'd ever been abroad and it was daunting," he says. "We landed with very little money, no contacts, nowhere to stay... we slept in the train station until the nearest hotel opened and then tried to register for work, but all the jobs were in the suburbs miles outside the city and we didn't have a car so we tried to sign on for benefits before the money ran out.
"That was a nightmare because we didn't have a fixed address," he continues. "They said 'you're not in England now, mate'. It was a disaster - I didn't even have enough money to get back home, so I was in limbo. We'd just walk around Perth asking for work on the construction sites.
Jeff Slater after returning from Australia
"That summer, there was a 46-degree heatwave and I'd never experienced anything like it," Jeff says. "The flies were unbearable. We eventually got temporary accommodation in a hostel, which allowed us to claim benefits, but it was this small non-air-conditioned room which we shared with an alcoholic. It was dire."
It was far cry from California and the jobs market was equally as unpleasant, too.
"It was about doing whatever we needed to do to survive," Jeff says. "Every time I went out looking for work, I had to pass through parks where alcoholic members of the aboriginal community would brawl with me. It was pretty rough, but I was much heavier and powerful at this point. I'd go to the gym and people there helped get me jobs. I'd do anything for money.
"One job I did was as a standover guy for homosexuals having sex in public toilets," he adds. "I had to stand guard because there was a lot of homophobia in the mid-'70s and they'd often be targeted by bikers or by the police. I'd learned to adapt, but I'd had enough of Perth."
Jeff Slater with his doctorate, 1996
Disenchanted with their lives in Western Australia, Jeff, Steve, and a local friend called Phil decided to drive across country to Sydney in a 1966 Ford Falcon. "It was so dangerous," Jeff says, the disbelief thick in his voice. "We took as much water as we could but you could go 500 miles without seeing anyone. Had we broken down, we'd have been in dire straits."
But they made it. Jeff found the far more cosmopolitan Sydney much more to his liking, soon finding work as a bouncer in more relaxed taverns frequented by far less antagonistic clientele and training at a gym owned by Paul Graham, then one of Australia's strongest men. The trio shared a Bondi apartment just 500 yards from the beach. Life was good.
"I started to enjoy myself," he says. But that enjoyment was to be short-lived. "The other two got girlfriends and moved out and I couldn't afford the rent on my own, so it was time to come back to England. I wanted to stay, but I didn't have the money and I was 21 - I felt I had more opportunities in England."
Back in the UK, Jeff got a job as a labourer at Lucas Aerospace but immediately disliked the work. "The lad I worked with had done it for 20 years and I just couldn't understand that," says Jeff. "He said 'you'll be the same: you'll get married, you'll have kids, and that'll be you'. I said 'I won't be doing any of that.'
"Education was my way out and I knew that, if I wanted a better life, I needed a proper education."
Giving up his job at Lucas', he worked as a doorman at The Sands in Nelson and later as a surveyor for the local council while taking B-Units at Nelson & Colne College to enable him to apply to university, eventually being accepted to the University of Bradford. The boy who had failed his eleven-plus exams went on to get not one, but two degrees.
Boxer, Bouncer and Now a Doctor book cover
"I really enjoyed academia, it was fantastic," Jeff says. "I felt I was part of something that was better than I'd ever known before, like I was part of an elite. None of my family had ever been to university before so I felt particularly privileged and proud to be there. It was fulfilling and I really started to enjoy life; my self-esteem was higher than it had ever been.
"I got hooked on education and, when I got a 2:2 in my first degree, I thought 'I can do better than this'," he adds. "I wanted to prove to myself that, after building myself up physically from nothing, I could do so intellectually. I wanted a master's degree and a doctorate, which was unheard of - very few of the lecturers at university had a doctorate in those days.
"I married my experience with my educational ability to put my thesis on violence in working-class sub-cultures forward; I wanted understand violence and it was up to me to create this original contribution to knowledge," Jeff continues. "It was a challenge, but the experience of being a bouncer and of violence in a systematic and sociological way was invaluable."
Jeff relished his status as an academic novelty: someone with practical, real-life experience of the complex sociological topics he was exploring. But he was nevertheless wracked by self-doubt, describing the ordeal as 'an intellectual beating' akin to the physical abuse he had sustained. But he persevered and, in 1996 at the age of 39, earned his doctorate.
"A lot in my life has been due to my determination and I want to be an example to other working class people who feel they may be going nowhere," Jeff explains. "If you're determined, you can overcome what may seem insurmountable obstacles, even though society makes it difficult for us. It's 99% perspiration and 1% inspiration. Looking back, there's a lot of pride in that."
Financially independent since the age of 35 thanks to an impressive property portfolio which he sustains to this day, Dr Jeff Slater - now 65 and back living in Worsthorne - has undergone what he calls a lifelong 'metamorphosis'. It's a journey which he has chronicled in his book titled 'Boxer, Bouncer and Now a Doctor'.
When it comes to achieving long-term goals, there are few more impressive case studies than Jeff Slater.
"I made it to California in the end," he says.