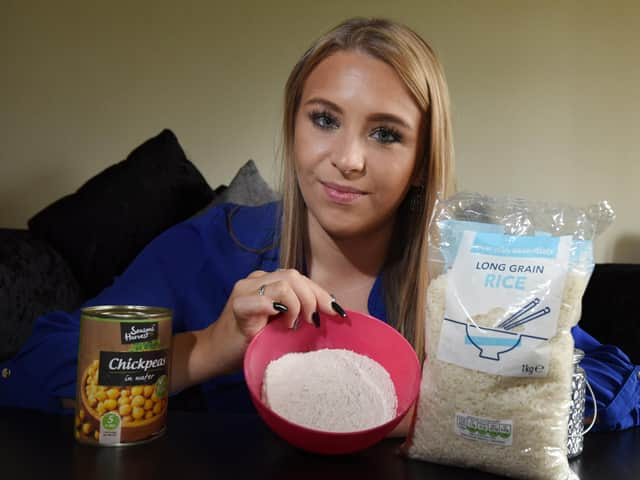 Estelle with some of the basic rations she will have to live on
Estelle Peachy, a travel advisor from Buckshaw Village, will forgo her love of meals out, meat and alcohol and live off a meagre amount of rice, lentils, tinned sardines and kidney beans from September 13 to 19.
The ration, with only water to drink, is the equivalent of what an adult Syrian refugee is given.
"It's going to be really challenging for me", said the 24-year-old.
"I really love food and I go to the gym five times a week, but I won't be able to do that because I won't have the energy".
Estelle came across the challenge when an advert popped up on Facebook after she had read about the plight of a family bombed out of their home.
She has has pledged to raise £314, which is what it costs for two adult ration boxes for a full year. If she raises more, she will be allowed to add spices and milk to her allowance.
She said: "When you get the ration box they send some recipe ideas too, and I've been looking for tips on a Facebook page.
"One of the main meals people plan to do is Syrian pasties, which is frying a mixture of flour and water in a pan and putting kidney beans in. It looks horrendous, but it will give me some idea of what these people have to live like. But obviously we can't properly understand what it's like to live in a war zone or lose family members like that have."
She added: "I've read that some people feel guilty when they return to eating normally."
Estelle plans to video blog her experiences as she takes on the challenge.
The challenge is being run by charity Concern, which runs programmes to tackle hunger in 25 of the worlds poorest countries.
The ration pack they deliver to people taking part contains:
- 400g tinned kidney beans
- 330ml of vegetable oil.
Last year's ration challenge raised over £1,000,000 for the work of the charity.