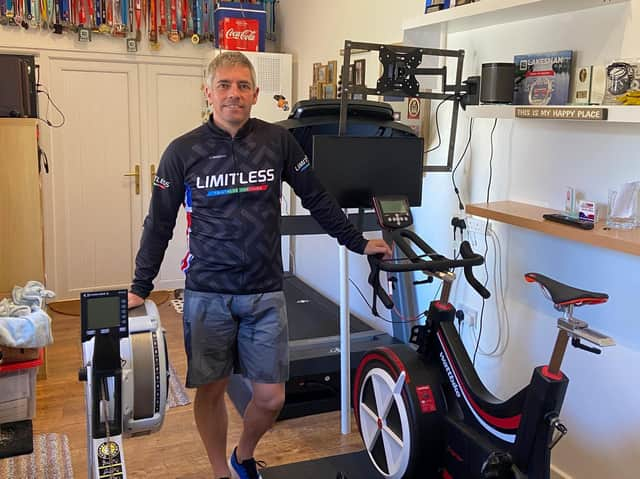 Joe Duckworth at his indoor gym
Joe Duckworth, 49, from Chorley, who is an airport Firefighter at BAE Systems, Warton, is taking up the challenge - covering 1,400 miles - in honour of the NHS staff working through the Covid-19 crisis.
Joe said: "I have been classed as a key worker during this crisis, as along with my crew we have been ensuring flights carrying vital supplies and personnel around the country can take off.
"When I'm not at work I compete in long course triathlons. During the pandemic, along with many of my friends, we have been adapting our training to the great indoors to protect the NHS and save lives.
"On May 1 I will be starting my 10 in 10 Indoor DECA Triathlon, 10 Ironman triathlons in 10 days indoors.
"This won't be an easy challenge both mentally and physically, but it's not even comparable to the efforts our fantastic NHS personnel are putting in daily. My challenge will be over in 10 days, theirs will be going on for many months."
Daughters Anna and Lucy Duckworth said: "He's done triathlon for the last 10 years but never anything this mad. He has not competed for over 12 months due to a knee injury which was operated on late last year - 2020 was going to be his comeback year, and now it will be."
The challenge will be a daily event comprising of a 60 minute row (approximate time of the Ironman swim), 112 mile indoor bike, 26.2 mile treadmill run.
He will be using the online Zwift platform for the bike and the run to give other athletes the opportunity to join me him or support him each day. Each day his bike ride will begin at 8.15am and to join people need to connect with him on Zwift at Joe Duckworth(LIMITLESS).
Donations can be made at https://www.justgiving.com/fundraising/joe-duckworth1