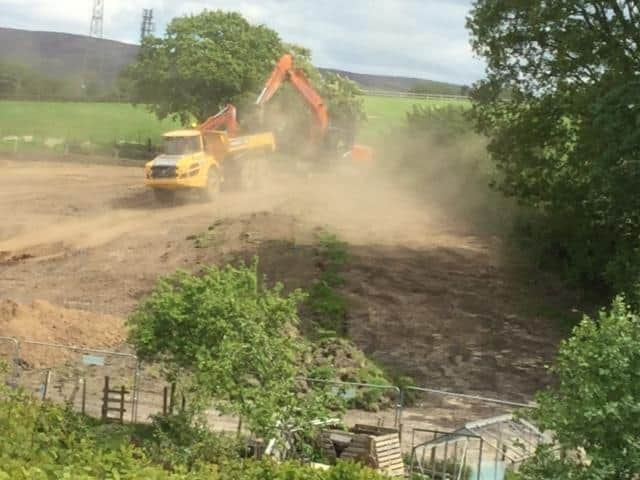 Work at Hollins Lane, Forton.
Residents in Hollins Lane, Forton, have contacted Wyre Council, Lancaster MP Cat Smith and others about the problems.
They say the dust is making the road like "the Sahara Desert" because of four separate schemes taking place in the Hollins Lane area.
Three involve housebuilding and the fourth is railway embankment works.
Work at Hollins Lane, Forton
One resident said: "The other day there were over 50 lorries on our lane for these developments.
"The pollution caused by these developments being within the space of 300m is terrible
"The dust that is being generated off these three sites and the railway is severe."
The resident said the problems were interfering with the enjoyment of their home in lockdown.
She said: "At the moment we are being encouraged to enjoy the fresh air and open our windows to help stop the spread of the virus – stay at home is advised where possible. And this is simply not possible.
"The dust is in the house, on the window sills, all over the back garden, furniture, cars. Its not just a little it's a lot.".
"Its like we are living in the Sahara Desert. You can literally taste the dust in your mouth"
She said the road had become dangerous to walk down.
A Wyre Council spokesman said: "The council will investigate any concerns from members of the public to ensure that contractors are working safely and no risk to the general public.
"Due to the current restrictions, our environmental health officers are unable to visit sites to investigate concerns, and evidence submitted from residents so far is being reviewed and we are asking residents to continue provide council officers with evidence to help investigate this matter."