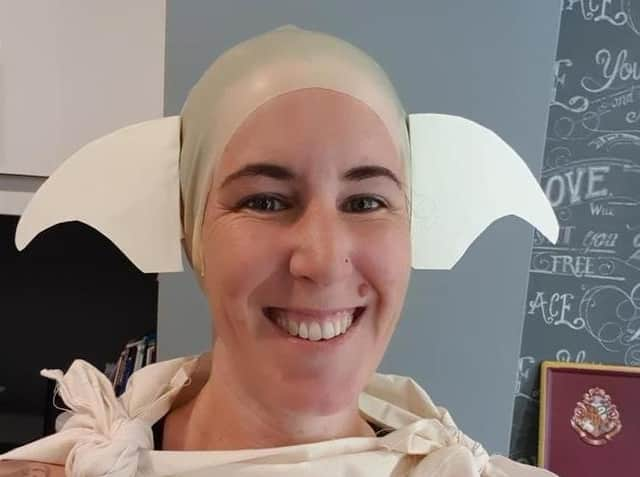 Annette Russ does Dobby
Annette Russ decided to dress up as Harry Potter character "Dobby" on a recent 10K exercise run around Penwortham.
Annette, a member of city group Red Rose Runners, said: "I was running as the house elf to raise a bit of cheer and raise money for a charity NASS (the National Axial Spondyloarthritis Society . Axial spondyloarthritis is not really a well known issue and they've had four times the amount of calls and emails in recent weeks because of Covid-19. I thought it was a good charity to support and my husband Jon has is so it's a charity close to my heart."
She improvised her costume using a torn sheet and, true to the Harry Potter books, ensured Dobby was carrying a sock. Her head gear was improvised from a fancy dress bald head with Dobby's enormous ears made out of paper. It was an outfit she created when a friend organised an online Harry Potter quiz recently. She shared her JustGiving page with family and friends and told them to look our for her.
Annette does Dobby and promotes the club's Food Bank initiative
"I thought I would make a bit of a fool of myself!"
The finance controller, explained that her children, aged 12 and nine, love the Harry Potter books and films and said: "They thought it was brilliant. They are big Harry Potter fans."
Nor is the Dobby run, the only inventive or charitable run she has completed on lockdown exercise in Penwotham.
The Red Rose Runners created their own rainbow run challenge, asking members to wear a different coloured outfit each day for a week following the colours of the rainbow. She said: "Every day we did a different run with a different T-shirt and made a rainbow collaboration photo to bring everyone together."
Next the club decided to combine individual's runs with deliveries of food destined for local Food Banks. Annette said some members put donation boxes at their gates, along with the club's T-shirt and rainbow signs and members were invited to run individually with their contributions to their local drop-off point.
She said: "Different members are coming up with all these different ideas. It's making sure we continue to exercise and run."
Annette joined the Red Rose Runners a year ago and said: "It's lovely. We do couch to 5K, it's right for the beginner all the way up to crazy ultra marathons. It's for all ranges(of runner) and it is lovely and friendly."
As for the Dobby appearance, she has not ruled out bringing the magic back with another fancy dress tour. She said: "I might do the same again because so many people smiled and beeped horns. It's just nice to have had a few smiles really."
* Annette's JustGiving page headlined "Annette's Dobby does Penwortham" is at www.justgiving.com/fundraising/annette-russ
* On her JustGiving page Annette noted that NASS is: "the only charity in the UK that is dedicated to transforming axial spondyloarthritis care." She wrote: "AS takes on average 8.5 years to diagnose.The charity want to slash this to three years. The charity aim to empower everyone with axial spondyloarthritis to manage their treatment and to stay in control of their lives. They are driven to ensure that health professionals around the UK deliver tailored and timely care to every patient, every time.
"As a painful, progressive form of inflammatory arthritis it mainly affects the spine but can also affect other joints, tendons and ligaments. Other areas such as the eyes and bowel can also sometimes be involved. Inflammation occurs at the site where ligaments or tendons attach to the bone.
"The inflammation is followed by some wearing away of the bone at the site of the attachment. As the inflammation reduces, healing takes place and new bone develops. Movement becomes restricted when bone replaces the elastic tissue of ligaments or tendons. Repetition of this inflammatory process leads to further bone formation and the individual bones which make up your backbone (vertebrae) can fuse together. 59% of people with AS report experiencing mental health problems compared to 25% of those with musculoskeletal conditions overall."