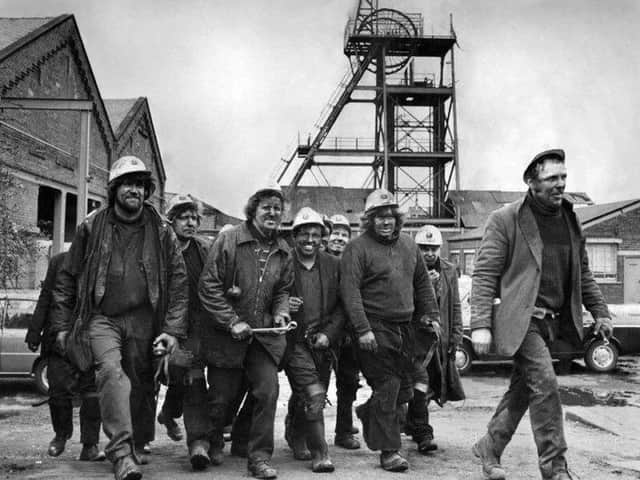 Hapton Valley miners leaving the lamp room
Combining a ready-made skilled workforce newly released from the shakles of domesticity with its international connections via the port at Liverpool, its cotton-friendly soft water from the Pennines, and its rich seams of coal, the county arguably kick-started the Industrial Revolution.
But none of it would've been possible without the efforts of the humble miner.
Jack Nadin is a Burnley-born ex-miner, mining historian, and author of eight books on mining in Lancashire. Despite the ancient profession being defined by perilous working conditions in deep, dark pits, when it comes to mining in the Red Rose county, Jack is the man to cast a ray of light onto proceedings.
"Back in the day, it was the mill for the girls and the pit for the lads, that's just the way it was," says Jack, 72. "My granddad and my uncles worked down the pit and so I naturally wanted to follow in their footsteps.
"I'd looked forward to it, actually. My granddad used to show me his scars because, if you got a cut down the pit, coal dust got in it and left a blue scar," he adds. "He'd show me his scars and say 'never go down't pit'.
Mining was crucial to Burnley's development and growth as a town in the 19th and 20th centuries.
Jack Nadin with the memorial time capsule
Right up until the early '80s, mining was the second-largest provider of jobs in theburgeoning mill town after cotton-weaving, which was itself fuelled almost exclusively by the coal mined down the local pits on the bountiful Burnley Coalfield.
Despite this, Jack calls mining 'probably the worst occupation in the world'.
Records stretching back to the 1830s describe the truly gruesome circumstances in which pit workers had to earn a living, often losing limbs or even their lives in the process.
Descriptions of grim fatalities include incidents of explosions, roofs collapsing, being crushed by barrels, falling down shafts, being suffocated, getting entangled in machinery, and being scalded to death.
Keith Robinson, shuttlecar driver at Reedley Colliery
The deadliest disaster on the Burnley Coalfield - which, in geological terms, stretches all the way from Blackburn to the Yorkshire border - was at Moorfield Colliery at Altham where, in 1883, a gas explosion killed 70 men and boys.
And, in an era of health and safety, even accounts of non-deadly incidents are noteworthy for their laissez faire context: rumour has it that, when a leak was sprung in a pit at the Gambleside Colliery near Dunnockshaw, the owner offered the pit manager use of an umbrella.
"We'd have 16 weeks' training and then at the age of 16 you could choose your pit," explains Jack, who spent eight years working down the mine at Hapton Valley Colliery. In fact, he started work just two years after a disaster at the site which killed 16 men instantly, with three more later dying of their injuries.
"I was actually working in the same tunnel where it occurred, which was a bit scary," he says. "But you had to get on with it.
Burnley Mining Memorial wall being completed
"For a few years, on the anniversary of the disaster, everything would stop for 10 minutes and we'd have a minute's silence," Jack adds. "It'd just go quiet."
Jack worked as a supply lad in the pit, transporting props, supports, and machinery up to those working at the coalface.
"I never got trained to work on the coalface itself because lots of pits were shutting down at that time and all the men who were already trained were coming to Hapton Valley, so they worked on the face and earned more money," Jack explains. "I loved it.
"We'd be pushing some really heavy stuff half-a-mile or so, so it was hard work but it kept you fit," he continues. "I was a scrawny thing when I was 16 so it built me up and, when I left the pit, I worked as a scaffolder, which was hard graft, too.
"I suppose you can say I've been up and down in the world!" he says with a laugh.
"I look back on my time down the pit fondly because there's a camaraderie in mining and in the pub at night - as the saying goes, there's more coal cut in't pub than at the coalface!" Jack continues. "I was sad to leave the job, but I had children and needed more money.
"The kids were the priority."
A keen local historian, Jack's departure from the mining profession did not mean a severing of all ties to the industry itself.
He quickly realised that there was a dearth of information about local pits and so has dedicated himself to collating what material there is in his books. His work has seen him travel to countless other mining towns across Lancashire, South Yorkshire, the Welsh Valleys, and the North East, and in each one, he noticed something.
"Most every town had a mining memorial," he explains. "That spurred me on to try and get one for Burnley."
When your office is hundreds of feet underground, hot, cramped, and volatile, Jack is not exercising artistic license when he says there's no nice way of losing your life in a mine.
In recognition of miners' sacrifice, Jack launched the Burnley Mining Memorial Fund two years ago on the 56th anniversary of the Hapton Valley Colliery explosion and started campaigning for a tribute to those who ended up paying the ultimate price.
With the project having received support from the local community as well as Burnley Borough Council, work finally began on the memorial last month.
A total of 328 people - some as young as seven and as old as 80 - are recorded as having died in the 36 pits on the Burnley Coalfield, with the sandstone memorial in the town centre set to feature a black marble plaque inscribed with their names.
"There were many times I thought of giving up, but we kept going and eventually we got there," says Jack, with the memorial also containing a time capsule filled with brass tallies with miners' relations' names on them.
"The memorial is a tribute to all who worked in an incredible industry where men would grapple at bare rock after roof falls with bleeding hands to save a workmate under tons of stone.
"Such bravery and toil is worth recording," he adds. "And this tribute solidifies a big part of the town's history, because while everybody refers to Manchester as the capital of cotton-weaving, Burnley was actually the biggest cotton-producer in the world at one time, with everything being steam-powered by the coal."
Where would the world be without Lancashire? The melting pot in which were forged the Spinning Jenny and the modern turbojet engine alike, the county was transformed off the back of coal.
Yet the county's last last deep mine was sunk in 1993 as a rich chapter in Lancashire's history was brought to a perfunctory end.
"The former pit sites grip me," says Jack. "It's a bit sad to see it all quiet knowing at one time it would've employed hundreds of men. And, when you learn about some of the accidents underground, you can't help but think 'was it all worth it?'"