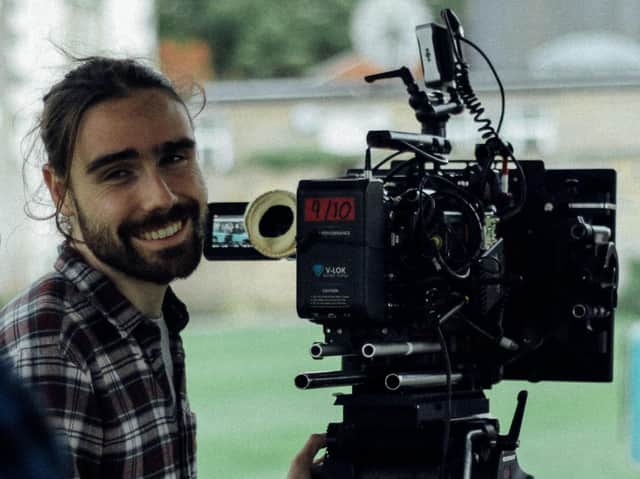 Guy Davies at work
An independent filmmaker has taken an unexpected opportunity to showcase his work in four Lancashire cinemas.
Screens in Chorley, Morecambe, Lytham St Annes and Burnley will be amongst a select number of venues nationwide showing Philophobia next week.
It's not the usual route to showcase a film, but Covid has made everything different.
The new film Philophobia is being shown at selected Lancashire cinemas from October 30.
As a result of the ongoing international pandemic many big name studios have chosen not to release their new films this autumn. For example, avid fans will now have to wait a little longer for the release of the new James Bond movie.
The news of such postponements was the cue for writer, director and filmmaker Guy Davies to step into the spotlight.
He said: "The studios pulling their films has created a space, a gap in the market for indie films. I've just been reaching out to cinemas and programmers. It's been a period of a lot of hard work. This job would usually be done by a distribution company. I'm dealing with all the cinemas directly."
His debut coming of age movie Philophobia (the word means fear of falling in love), will be shown in the county venues from October 30.
In all he has now persuaded some 50 venues across the country to show the film.
Guy, who was brought up and still lives near Stroud, Gloucestershire, said: "The film is set in my home town and shot in the high school I attended as a teenager — it's inspired by life experience and is about love, friendship, sex and that uncertain transition period in life before becoming an adult."
Its pre-publicity notes: "One week of high school remains for Kai, an aspiring writer, and his friends. How they choose to spend this time awakens sexual desires, costs one of them their life and leaves them all changed forever."
The film has been a long project for 29-year-old Guy. Thousands applied to audition for roles.
He said: "The film was shot quite a while ago in summer 2017. I had a long delay in the editing process as my mum got a terminal diagnosis. I took a year and a bit out to look after her. Then I came back to work on this film again mid-way through 2019."
Funding for the film came from local investors in his home area round Stroud in Gloucestershire, following a report in his local newspaper: "There was no grant money,.It's a fully independent movie - I did outreach to the local area."
The film has already gained 12 awards on the festival circuit including San Diego International Film Festival where it won Best Global Cinema and gained the Best Cinematography award at the European Cinematography Awards.
Guy's passion for film started when he was very young - he was making his own films with friends at the 11 and was a child actor. When he left Wycliffe school he spent nine months studying cinematography at the New York Film Academy.
He later worked for the BBC doing camerawork on programmes like Sherlock and had also directed small projects on the side.:"At some point I decided I was ready to make the switch from camera - my income, to directing.
"I hope that people feel comfortable and can get in and support the film and support the arts and support venues in these difficult times and I hope people will enjoy the film as well."
Guy added: "A self release on this scale is unprecedented by a filmmaker, I am in my 20s doing everything from my bedroom with no marketing team. Some cinemas have already added a second week. It's been really good."
Production company Fablemaze of London and Australia produced and spearheaded the project. Guy was also a co-producer.
•Philophobia is due to be shown at REEL Chorley, REEL Morecambe, REEL Burnley and The Island Cinema at Lytham St. Annes from October 30.