Could Lancashire dog lover give home to Chinese flood survivor Duole?
A blind dog who was unable to save himself from rising flood waters in Beijing was rescued by charity workers and given his first ever wheelchair.
Watch more of our videos on Shots! 
and live on Freeview channel 276
Visit Shots! now
Duole, who is believed to be around three years-old, was rescued from a village in the west of Beijing by the NoToDogMeat charity.
And now that he is safe and sound, he is looking for a loving new home, and UK spots including Lancashire are favoured, with people being urged to come forward.
The adorable pup had been living in a small ill-equipped shelter, which quickly succumbed to the devastating flooding putting the lives of its dogs at risk.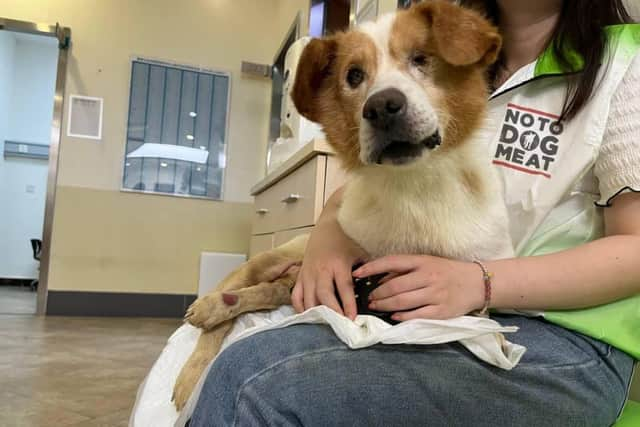 Anna Gan, who runs NoToDogMeat's shelter in Beijing, bravely risked her own safety to wade through roadblocks and polluted water in order to save as many dogs as possible. And when she saw Duole she knew that he would not have survived on his own.
Anna, 21, who cares for around 150 dogs at the charity's Beijing facility, said: "It has been a very hard time, and a time for all animal lovers in the city and surrounding villages to join together to help save lives.
"The conditions we found at Duole's shelter were pitiful. Unlike the NoToDogMeat shelter the buildings were at best huts, which are now destroyed. It is wonderful that people are well-meaning and care for the dogs. But in a disaster like this it is a real crisis."
The NoToDogMeat team took food the charity had donated and offered refuge to any dogs that could be evacuated.
Amongst them lying in the mud unable to move was Duole, a white and tan spaniel-type dog.
Julia de Cadenet, who founded the NoToDogMeat charity in 2009, said: "His condition reduced Anna to tears, knowing how terrified he must have been with storms raging and water rising.
"Even with the cages open, he stood no chance to survive.
"She carefully carried him down the banks and took him back to Beijing."
Duole is now on a better path in life, but has complex medical needs, including being unable to toilet himself without assistance. Back at the shelter the traumatised pup started to wail as night fell and has been unable to be housed with the other dogs.
But as the days have passed, Duole (pronounced Dollar) has grown in confidence, and has even been fitted with his very own wheelchair, a revelation for the brave canine.
Julia, from London, added: "The charity has been struggling to fundraise as its bigger shelter in Hebei has been severely hit by the floods but supporters moved by Duole's plight and the compassion of Anna and Chinese rescuers have bought him a custom wheelchair.
"It took some lessons but now this brave dog has found a new lease of life."
NoToDogMeat recently reopened its international rehoming scheme after the pandemic, and it is hoped that Duole will soon find his new forever home in the UK, USA or Europe.