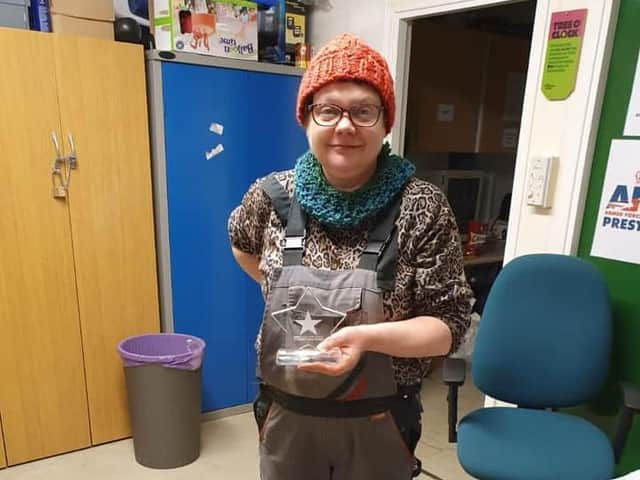 Annie with her Christmas star award, given to her by BBC North West tonight
Annie Wynn, 50, received the award for her continued efforts with the charity, helping local communities brighten up their areas and neighbourhoods with a wide range of planting.
And she appeared on BBC North West tonight on December 15 to accept the special award in recognition of her community work.
She said: "One of my colleagues that we work with often had nominated me for a Christmas star. This award is given every year, and I know they had hundreds of people nominated for their work helping the community.
"It was really kind and I couldn't believe it. I was very flustered on the day because I had been told that the BBC were coming to talk to me about our charity and how we support mental health.
"It's very difficult talking about myself, I just happen to be here and really enthusiastic about the charity's work, but its the people that make the difference."
Annie became involved with the charity when it was kickstarted back in 2011, after running a community garden at St Michael's church on Egerton Road.
Her colleague Donna Rowe-Green emailed the BBC, nominating her as the 'driving force' behind the charity.
She added: "She and her team have made a significant difference to the whole community. She is not very good at acknowledging the difference she makes, and so often those on the front line making and distributing the food can become the face of a project that she and her team have been pivotal in making happen."
Her charity work has since led to her being one of the few recipients of the Christmas star award, that had more than 600 nominees.
As well as supporting volunteers from Preston to develop their two community garden projects - both at Ashton and Ribbleton, they provide education and training to those wanting to learn more.
And they will soon be offering workshops on composting, wood cuttings, health and safety in partnership with Lancashire Adult Learning.
Annie added: "It may sound dramatic, but we really can save lives with our work. Someone who was suffering from depression had said that if he hadn't have been able to come and be involved, he could have ended his life.
"The impact on the community is incredible. Many people who volunteer with us are isolated and lonely, but have instant friends with us who all share a common goal.
"It is eye-opening and educational. People have come to us for work experience and have since gone to work with the wildlife trust and develop a real passion for gardening."
The Covid-19 pandemic has meant that many of their volunteers who are considered vulnerable, haven't been able to return to join the community effort they love.
However, their number of volunteers involved has still grown by 50 per cent when compared to last year - with groups being separated into three bubbles to complete their work during the lockdown.
For more information on becoming a trustee or volunteer, click here.