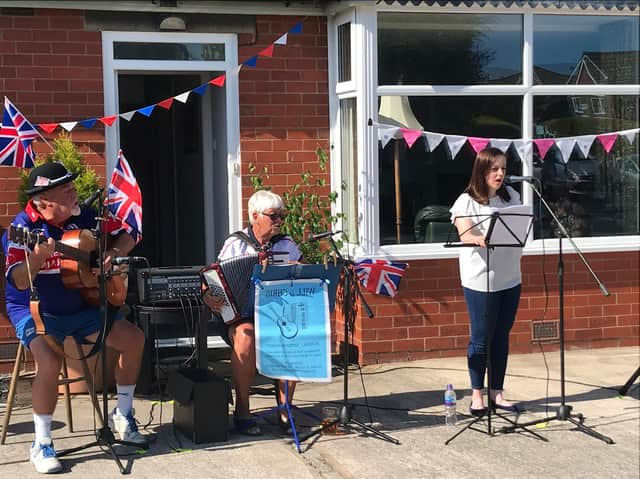 Elizabeth Singleton sings with Chris and Will Lingardduring the VE day outdoor performance
Classical soprano singer Elizabeth Singleton, 19, had been invited to sing at a street party on Daniel Fold in Catterall, near Garstang.
The teenager decided to invite donations for the Garstang's armed forces and veterans' Breakfast Club.
Some £180 was donated and a delighted Elizabeth, who lives in Myerscough, near Garstang, said: " I felt honoured to be part of it and to raise money for a local charity in the area. It's nice to give something back."
Andrew Wallbank of Help Longridge
Later she also sang wartime songs on Cock Robin Lane with Chris and Will Lingard (pictured) .
Elizabeth hopes to gain more professional singing enagagements in the future and is studying for her grade 5 music theory examination.
The former Garstang Community Academy pupil, who went on to study health and social care at Blackpool sixth form, has previously given recitals at local hotels, sung at Christmas and remembrance events and is keen to sing at weddings and other special occasions.
Meanwhile in Longridge the Help Longridge volunteer group, set up to help vulnerable members of the community through the Coronavirus crisis, were keen to spread VE day cheer too.
Spokesman Andrew Wallbank said: "One of our volunteers provided chocolate cupcakes with red, white and blue icing, for everyone who has utilised our services. It was a doorstep delivery gift and the cakes were made by Fran Holden. We also managed to deliver some pots of daffodils c/o Michelle Unsworth at So Plants. These went out to people who have utilised the prescription drop off service and the buddying service."
He added that the prescription and shopping service for the vulnerable and self isolating and the telephone buddying service for those feeling worried or lonely during the Coronavirus pandemic is still available.
* Help Longridge can be contacted seven days a week on 07552 680591 or by emailing [email protected] from 8am to 9pm. The service also covers outlying areas of Hothersall, Chaigley and Alston.
* Garstang Volunter Force helpline numbers are 07493 557975 or 07340 568400 and this Coronavirus community help service, also offering shopping and prescription collection and chat buddies, is available from 10am to 4pm every day