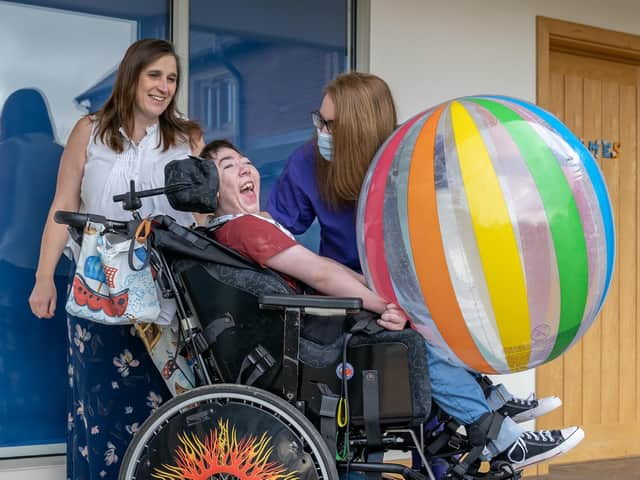 Christine and James Singleton with Helen Taylor (right)
Her eldest child, 17-year-old James, is profoundly disabled and immunocompromised, so she has been shielding with him in the family home while the rest of their family live with relatives. "It's been one of the hardest things I've done," she says.
Along with Helen Taylor, who has been James' carer for the past seven years, Christine is the founder of Skiggle, a Preston-based charity founded 12 months ago which facilitates a free emergency SOS system connecting a network of 6,000 people across the UK who can provide specialist disability equipment and care consumables to one another as and when they most urgently need it.
Skiggle, which also hosts an online marketplace where people can donate unused, unopened specialist disability equipment and care consumables, saw a 40% increase in demand at the start of lockdown as accessing supplies became harder.
This only served to highlight the importance of the charity's ultimate target of ensuring people are never more than 10 miles away from critical equipment.
"In March, we saw a massive increase in demand and the SOSs went through the roof and, across our community, we were just frantically trying to survive and protect our loved ones as much as we possibly could," says Christine, from Preston. "It's settled down a bit since, but I'm concerned we're going to see something similar again, which is really scary because this is life-saving stuff we're talking about.
"If supply doesn't come in, what happens?"
The last eight months have been difficult for Christine and James, but their determination shines through.
Christine Singleton, the co-founder of Skiggle
"The Prime Minister said something in March which really resonated with our family," says Christine. "He said 'you're going to lose loved ones', which was too hard for us. We decided that was not going to happen.
"To pack up my daughters' clothes and not know when they were coming back and for this to potentially be the very last time my husband and my two girls saw James alive was hard," she adds. "Not having my girls making a racket or my husband to talk to of an evening has been incredibly tough for both of us.
"James has his ups and downs, but you can tell he's missed them a lot. He sees his sisters on FaceTime and, when we finish the call, his mood drops and you can tell he's thinking 'why are they not here?' That's so tough, it's awful to see.
"I wave to my daughters from the motorway bridge opposite where we live," Christine says. "At the end of the day, I've got three children but two are robust and healthy and one isn't, so it's not even entered my head to not do everything I could to protect James."
Determined to keep Skiggle a free service, the charity have also recently launched a Sing While You Shield fundraiser which allows people to donate to have professional opera singers Juliet Montgomery and Aiden Edwards sing a tune for a loved one.
"We think Sing While You Shield is fantastic; Juliet actually sang Hallelujah for James as it's one of his favourite songs - his sisters usually belt it out for him - and he loved it," says Christine. "If we're ever feeling down, I stick Juliet on and she brings a smile to his face and I want to do that for other people.
"It's not just for people who are shielding, anyone can get involved," she adds. "I asked Juliet and Aiden to sing my mum's favourite song for her birthday and sent it to her. She said she couldn't ring me because she was so emotional!"
Determined to continue supporting those in need, Skiggle is also looking for local businesses to partner with to ensure their work can continue. "Any help would be massively beneficial," says Christine. "I don't ever want Skiggle to be a paid service.
"Something so helpful should never be something that people can't access due to a lack of money."