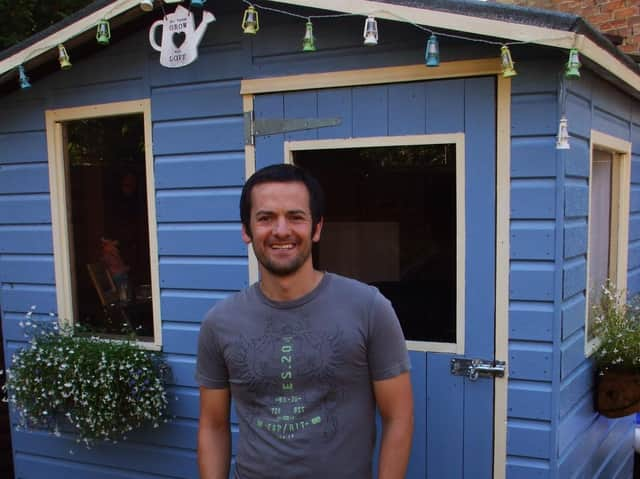 Mark Lowery pictured by his writing shed
Unexpected because who would have thought Preston's fish and chip shops could help inspire a new book for children?
But that's just what has happened with "Eating Chips with Monkey" the Preston raised author's newest work.
The ever inventive Mark drew on memories of his childhood growing up in Fulwood and his family's love of fish and chips when he came to write the just published £6.99 paperback
It is his tenth book and he said: " It is, again, set largely in Preston. It's all about fish and chips and a talking toy monkey. An autistic boy suffers an accident, which sort of sends him into an imaginary world, detached from his family."
The boy loves fish and chips but, Mark explains: "The accident send him into a withdrawn state and he is obsessed with his toy monkey. The family has to get him back. They take him on a tour of the five best fish and chip shops in Britain. "
Mark lives near Ely and combines his writing career with teaching three days a week at Swaffham Prior Primary School. But he retains a love of his home city. He said: "All my books are set in Preston even if I don't expressly say it. It's my way of anchoring it with family and with my own experiences, as it's writing for children."
He also drew on his teaching experiences. He said: "Autistic people often seem to be portrayed in a particular way - a maths genius who struggles with people skills. But it's such a broad condition. I've taught a lot of (autistic) children who were funny, kind, sweet people or they may struggle to keep up academically or to cope with change or certain situations or circumstances."
Illustration on the front cover of Mark's new book. (Cover by Chris Jevons)
Mark, 40, is one of four siblings who grew up in Fulwood. He attended Broughton High School and Newman College and remembers family mealtimes :"We grew up in a big family and every week we used to have fish and chips. It would be chaotic and steamy and noisy. People would fight over chips, somebody always got the order wrong and there would be not enough tomato sauce! Everybody would be talking at once. For me fish and chips is an archetypal family meal and tastes great."
He recalls "friendly arguments with our friends" about the merits of local chippies including The Happy Haddock, the West End, chippies in Tanterton, in Ingol and on Market Street, Preston. Umberto's on Watery Lane also figured in his memories, with its lengthy opening hours, as a place to call in for sustenance on the way home from holidays.
*Eating Chips with Monkey by Mark Lowery is published by Piccadilly Press and costs £6.99. The book is suitable for children aged nine plus and adults.