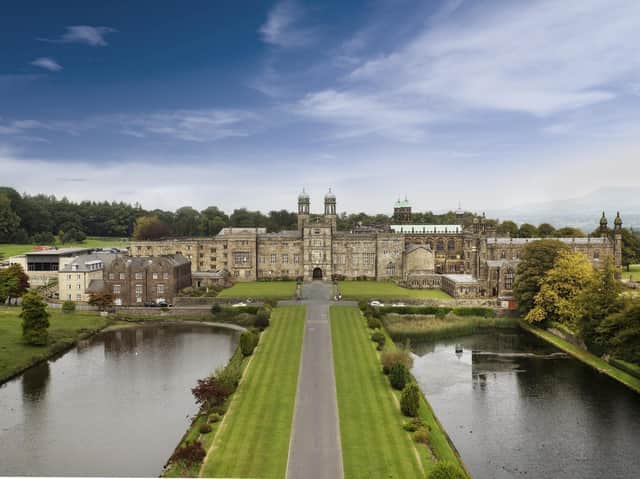 Stonyhurst College - venue for the drive-in services on Christmas Eve
First there will be a drive-in Christmas Mass at 5.30 pm as the Catholic community gathers to celebrate a first Mass of Christmas.
Then parishioners from three local Anglican parishes will have the opportunity to take part in a drive-in service too.
The services, in the grounds of the Catholic public school, near Longridge, will ensure socially distancing parishioners can take part in a service, but as befits these Covid conscious times, from the safety of their vehicles.
They will even be able to sing carols in their cars, unlike if they attend a service in a church. But numbers will have to be limited to the first 70 cars and those attending will not be able to receive communion.
The drive-in is the idea of College chaplain and local parish priest Father Tim Curtis SJ (Society of Jesus).
Father Curtis explained he had hoped there would be room for more vehicles, but due to the amount of rain in recent days the ground is too waterlogged to allow extra parking on the grassed areas adjoining the car park bays.
Canon Brian McConkey, Rector of Ribchester, said he was very grateful for the offer to also use the pop-up service facility. He said: "This is being made possible by Stonyhurst College, which has very generously offered us the use of their facilities. After their own drive-in Mass, we can use their sound and visual resources in situ. Gates will open at 7:00 pm for a 7:30 pm start."
Canon Brian serves three parishes - Ribchester with Stydd, Hurst Green and Mitton. Burnley Bishop the Rt Rev Philip North will be guest preacher at the 7.30pm service and there will be a bucket collection for the Blackburn and Salford based Thomas* charity.
Canon Brian said he understood an altar table would be set up at the entrance by the college's main car park area and cameras would focus on the altar.
He said: " It will be projected on a big screen. It will be like a drive-in cinema. The College has arranged the stewards and the technology. There will be people on duty to show you exactly where to go."
* Thomas provides holistic recovery focused services in Blackburn and Salford, which take people through detox and residential rehabilitation into community based provision. The majority of its referrals come from the north west region.
* * The Lancashire Post is more reliant than ever on you taking out a digital subscription to support our journalism. For unlimited access to Lancashire news and information online, you can subscribe here