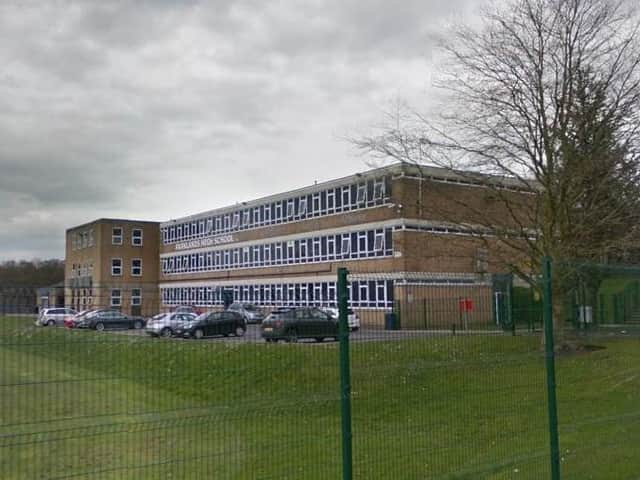 Parklands Academy
Parklands Academy proposes to use the new facility to allow sport to be played all year round and create a sports hub for the community.
The Southport Road school - which has between 1,000 and 1,100 pupils - has teamed up with Athletico Sports who have submitted plans for the airdome to Chorley Council.
The airdome will fully cover a current tarmac sports play area and will be 34.25 metres wide, 57.75 metres long and 11 metres high.
It will be able to be used between 9am and 10pm on Mondays to Fridays, and between 9am and 6pm on Saturdays, Sundays and Bank Holidays.
The dome is intended to provide a mixture of sports, including:
Athletico Sports: Futsal, Tennis, Netball, Action Cricket.
Athletico Futsal, tournaments and social bookings during operational hours.
Athletico Action Netball, Leagues, tournaments and social bookings during operational hours.
Athletico PE, provision of PE lessons and school holiday camps
Athletico Coaching, private coaching sessions.
The plans have been well received.
Public comments invited by Chorley Council on its planning website have overwhelmingly supported the proposed introduction of the airdome.
Lancashire county councillor Aidy Riggot, who represents Euxton, Astley and Buckshaw, commented: "I have known and spoken to the team behind this application many many times over the last few years during their search for a suitable site and partner that would enable them to deliver their vision as outlined in their application.
"I have also had the good fortune to be invited to see some of Athletico Sports teams in action on a competition day and I cannot speak highly enough of the applicants passion and commitment to youth sport and opportunities.
"The whole club from the players, their parents, the coaches to the leadership are a shining example of what community youth sports should be about and they are a fantastic ambassadors for their sport, Chorley and for Lancashire.
"The applicant has worked hard to seek a solution that would benefit a wide range of sporting uses and interests and a partnership with a well renowned high school brings exciting opportunities for the young people of Chorley.
"I encourage all members to look positively on this application and support these proposals. This is an opportunity that cannot be missed to provide much needed new sporting facilities and opportunities for the young people of Chorley by a team capable of delivering on that vision."
Another stated: "What a fantastic opportunity to have a tremendous facility for the kids of Chorley and the surrounding areas. The opportunity to have a purpose built multi sport venue should be snapped up without hesitation, this would allow hundreds of children to receive coaching and much needed exercise in a safe environment.
"To be one of few dedicated futsal venues in the country would put Chorley on the map nationwide!"
A planning statement supporting the application states: "Athletico Sports operate a business model that operates on 200 sites across the world.
"The vision is to apply the Athletico Sports formula in Chorley, which is the fastest growing population in Lancashire.
"It is estimated that between 2016 and 2041 the population of Chorley will increase by 16.4%, the highest predicted growth rate by far in Lancashire.
"The number of households in the authority is projected to increase by a substantial 23.2% between 2016 and 2041.
"This is the largest expected growth rate in Lancashire. Buckshaw Village alone is one of the fastest growing urban populations in Europe."
Athletico Sports have experienced, trained sports professionals that have established links and support from England & Wales Cricket Board, Sport England, the Football Association, England Netball, Lancashire Cricket Club, Dodgeball UK, UCLAN, Preston North End FC, Chorley FC, Runshaw College and Euxton CC.
The statement concluded: "The analysis contained within this statement evidences that the air dome will enable both Athletico Sports and Parklands Academy School's sports teams to play sport year-round, including the colder winter months, in a safe and comfortable environment, providing an improved educational and recreational facility to the school and the wider community.
"The proposals comply with the relevant Development Plan policies by providing enhanced community sporting and leisure facilities, and they fully accord with the National Planning Policy Framework guidance which encourages more effective and efficient use of land, and supports local strategies to improve health, social and community facilities."