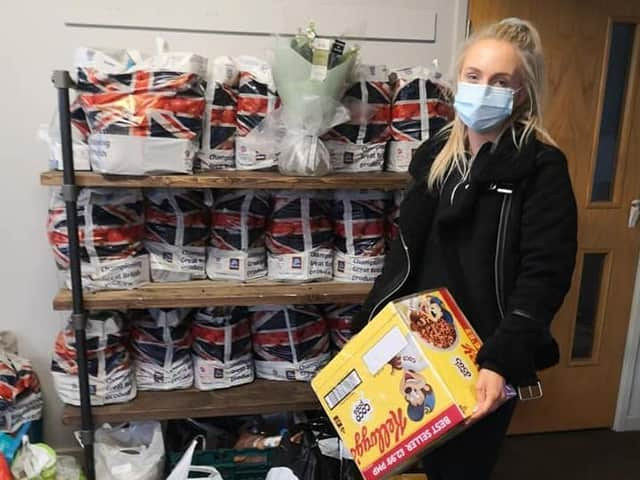 Food bags ready to be donated to struggling families last month
The foodbank, based at Living Waters church, Bolton street, has anticipated that they will have delivered more than 2,000 food parcels by the end of the year, due to a rise in demand during the pandemic.
Last year, the charity donated 1,665 food parcels to families in need across Chorley and have already delivered significantly more this year - a total of 1,850 so far.
In March, when the lockdown first hit, they produced almost 200 per cent more food packages than twelve months prior.
Living Waters church receives donations from shops, cafes and restaurants across Chorley
With Christmas nearing, project coordinator Helen Schilz believes the need for vital food packages and cooked hot meals will be 'higher than ever'.
She said: "As soon as we entered the lockdown in March, we saw a huge increase. Even now, the numbers are still very high and we have really seen the demand increase more than previous years.
"We have supported families with our holiday hunger initiative over summer, the October half term and will be continuing that over the Christmas break and anticipate that as we approach winter, more people will rely on services like ours."
Although it was announced yesterday that thousands of self-employed workers will narrowly avoid a cut to their Universal Credit payments that were set to come into force next week, Helen claims that more self-employed people are relying on foodbanks than ever before.
She added: "I anticipate that we will have done way over 2,000 food parcels by the end of the year. This is because so many people have had to start relying on universal credit and have had to wait for their payments.
"Furlough has hit people hard, and the self-employed business owners have fallen through the cracks completely and not been eligible for grants or much support.
"Others are struggling after being made redundant and job security is rubbish at the moment, especially for those working in bars, restaurants and other industries that are closing down again.
"We have seen a significant demand because of the loss of income that people are facing. We can no longer offer people a sit-down meal like we used to, so instead are offering hot takeaway meals for families as well as food to fill their cupboards."
Donations that come into the Living Waters foodbank have to be isolated over a weekend period to make sure they are not contaminated with covid-19.
A process that used to take two days now takes Helen a full week - she now spends five days a week to make sure all the food bags are packed and her volunteers can remain safe from the virus.
More information on the work that the Living Waters foodbank do is available on their Facebook page here.