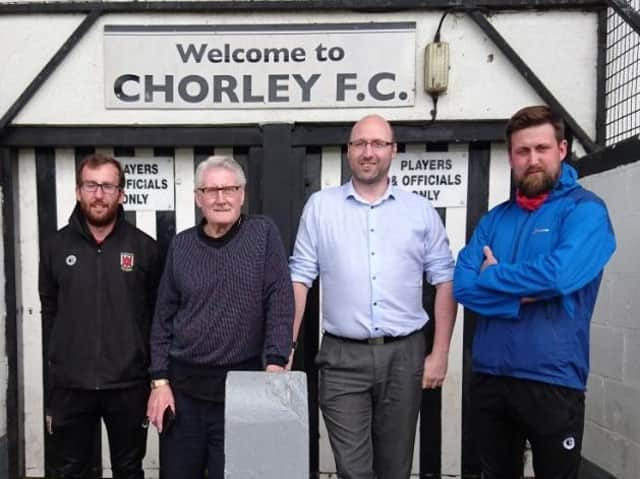 (From left) Jono Gaines with trustees David Murgatroyd, Darren Jenkinson, and Simon Denham
Not only the world's most popular team sport played by around 300 million people and boasting three of the top five highest-paid athletes on the planet, football changes lives at the grassroots level, too. Offering countless physical, mental, and societal benefits, it has the power to be a palpable force for good.
Tapping into the potential for football to transform for the better, Chorley Football Club Community Foundation works to support people local to the National League North club via a series of community-based programmes and initiatives. Established around 18 months to two years ago, the foundation is on a mission.
Tasked with promoting participation in healthy recreation for the benefit of the inhabitants of Chorley and surrounding areas, the foundation is using their facilities, coupled with the influence of football, to do just that. Engendering a stronger sense of community and reducing isolation, the foundation is using sport as the ultimate catalyst.
Chorley FC players modelling the Blokes United kit
"Clubs like Chorley FC have always been central to the community and people have always wanted to get involved and engage with the club in a different way to just watching games," says Darren Jenkinson, Chair of Trustees at Chorley FC Community Foundation. "It's vital that a community-oriented club like Chorley has an active foundation like it does.
"Because we're a non-league club, we don't have access to the same amount of funds as the Burnleys and the Prestons," adds Darren, 41, who's from Chorley. "But we do have a very strong group of willing volunteers."
Calling his job 'engaging', Darren says he has been mightily impressed by the foundation since he started work there. "One of the reasons I got involved in the charity and volunteering sector was that passion for working with people and trying to make a difference," he says. "What really impressed me about the foundation when I joined was the fact that they wanted projects which would change lives regardless of age, disadvantage, or health, and which would use football as a catalyst to do so."
Amongst the the foundation's flagship initiatives are Sporting Memories, which supports people living with dementia and Alzheimer's or who are socially isolated; their summer soccer schools, which give local kids the chance to train with coaches and first-team players; walking football sessions; and regular term-time workshops in schools and after-school clubs, at which assistant manager Andy Preece is a regular feature.
Kids playing as part of Chorley FC Community Foundation initiatives
Another standout programme with which they're involved is the Blokes United movement. "Blokes United was started to get men talking to each other, particularly about mental health," explains Darren. "So we get people together for a game of football, have a kickabout, and then invite everyone back to the football club for a chat and allow people to get things off their chest in a safe space.
"It's been an amazing project in helping people who would typically just let stuff fester internally, so that's building a good support network for people," Darren adds. "It soon becomes the focal point for people's weeks, which is great, and - a lot of the time - my job is trying to make myself redundant so projects can run by themselves by allowing them to take on leadership roles."
Despite being a relatively small organisation, the foundation has worked with around 1,000 young people and around 400 men through the Blokes United scheme this season alone. "Sometimes you look at the projects purely in terms of budgets and attendance and it can be easy to forget that for some participants, these initiatives give people the get-up and go," says Darren. "They give people an invaluable chance to get out and about and make friends.
"It's astonishing seeing the impact we can have," he adds.