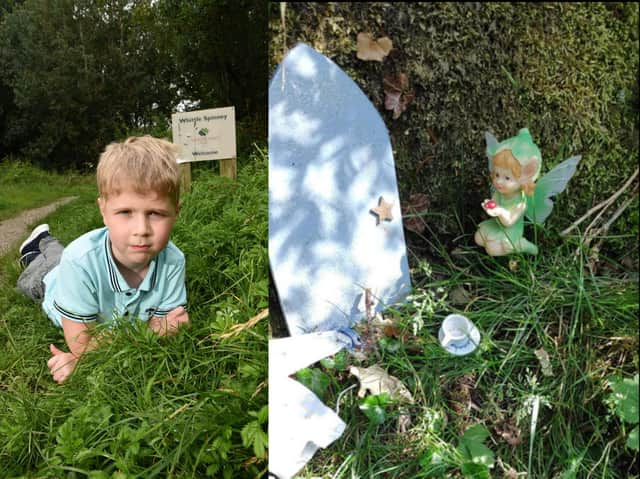 Six-year-old Jacob had left fairy-sized teacups in Whittle Spinney as part of the trail
Jacob Burnell was one of dozens of children who contributed items to the trail in Whittle Spinney, which provided a flight of fancy for youngsters during the early days of the coronavirus lockdown.
However, they have now been brought crashing down to earth after colliding with the somewhat harsher realities of everyday life.
The Woodland Trust, which manages the facility off Birchin Lane, said that the non-biodegradable trinkets which had built up in the area posed a danger to wildlife and the environment. The organisation also suggested that a Criminal Records Bureau (CRB) check should have been undertaken before the feature was created, because it amounted to an educational activity taking place on its land.
Mum Caroline Burnell rook Jacob to the woods every week during lockdown (image: Neil Cross)
Parents have been left outraged that the items were removed without warning and with no opportunity for them to be collected by their imaginative young owners.
When he found out that the tiny teacups he had left in the woods were gone, Jacob asked: "Why would they do that?"
"The children had left painted stones, figurines and even little poems in frames," explained his mum Caroline.
"Jacob took some persuading to leave the cups behind at first – but then he was really excited every time we went back to see that they were still there.
One of the fairy trail displays in Whittle Spinney...
"I was worried that vandals would come and destroy it, but it had stood the test of time – until now. All this stuff about risk assessments is just guff – they should just fess up and admit they shouldn't have binned it all like this."
Samantha Eccles, a local Guides' leader, complained to the Woodland Trust when she discovered what had happened. That is when the requirement for a risk assessment and CRB check emerged.
"Remember what it was like back when the lockdown first started – people could only leave their homes for an hour's exercise per day and this was something which provided children with some reassurance and relieved their boredom.
"The stuff that was left wasn't biodegradable, because people didn't want it to break down after just a few days.
...and another which the Woodland Trust says illustrates the threat posed by the items to the wooded environment (image: Woodland Trust)
"It wasn't a formal educational thing – it was something individual families were doing for themselves," Samantha added.
However, this particularly fairytale may yet have the obligatory happy ending.
Clayton-le-Woods Parish Council has offered space for an "environmentally-friendly" fairy trail as part of a new nature reserve being developed at Back Lane Woods. In spite of its name, Whittle Spinney is itself within Clayton-le-Woods' borders.
Council chair Mark Clifford said it was important to ensure that children are "engaged with nature and have a positive experience of wooded areas like this".
WHAT THE WOODLAND TRUST HAD TO SAY
A spokesperson for the Woodland Trust said that over 200 plastic items had been left in Whittle Spinney – including fairy doors and gnomes.
"This has been placed there without our permission and because plastic is non-biodegradable and can be a hazard to wildlife and fauna, we had to take this action.
"As charity we understand the role trees and woods can play in education and are actively involved in the forest school programme and provide hundreds of thousands of free trees to schools each year.
"We are delighted that people are visiting our woods in this time of crisis and enjoying the many benefits they can bring, whether it be to have an adventure, soaking up the atmosphere or to relax but we do ask that people do it respectfully and leave no trace.
"Whilst we understand the need to commemorate the many heroes from the NHS and other sectors of the community who have worked tirelessly during the pandemic, we do urge people to be mindful of the environment," he added.