Chorley cafe boss spearheads a campaign to feed the town's elderly
A cafe owner is urging businesses and individuals to rally round and help get meals to elderly folk in need this winter.
Tuesday, 17th November 2020, 12:30 pm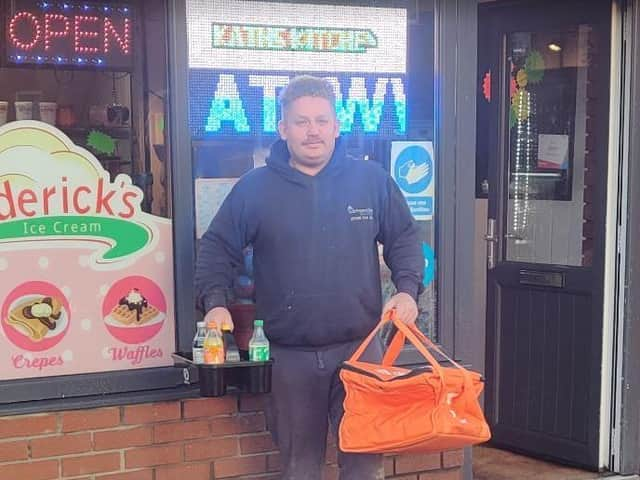 Wayne Erfmann, who runs Kath's Kitchen and Ice Cream Parlour on Pall Mall in Chorley,
Wayne Erfmann, who runs Kath's Kitchen and Ice Cream Parlour on Pall Mall in Chorley, says he has been so touched by the plight of elderly folk struggling to feed themselves throughout the town that he felt he simply had to do something to help.
Even though his cafe has provided free meals at Christmas in the past, Wayne, 35, wants to do more and is urging others to get on board.
The dad of two, who originates from Adlington, has called on local businesses - whether they are national chain stores or small operators - and individuals to team up in a number of ways, such as donating food items or being available to deliver meals, for example.
Wayne said it was only when he contacted Chorley Council for help and advice in his quest that he learned of the extent of the problems elderly folk face.
"It's not hundreds, it's thousands," said Wayne, who said he was taken aback by the figures.
He explained; "We had an elderly gentleman from Astley Village come in - I've always done Christmas meals in the past for the elderly and homeless. I'm trying to give something back.
"He'd had his meals stopped. I did a couple of meals for him and tried to find out about other people.
"I was willing to do up to 30 free meals a day and drop them off."
But as Wayne looked into the issue he discovered it was just the tip of the iceberg, and the council put him in touch with organisations who are regularly helping the elderly in Chorley.
He said: "People are doing it off their own back for free.
"A lot of people are doing a lot of work. I was quite surprised, overwhelmed to hear what the council said is in place.
"I'm trying to get others to get on board."
Wayne, who also runs a building firm, said he had already been in touch with national retailers locally.
"I want to get the ball rolling.
Wayne said he would prepare free meals at Kath's Kitchen - which is open seven days a week, but just doing deliveries at present due to Covid - and deliver them.
If anyone else would like to make donations, help with preparations and deliveries, they can contact him on 07596 344244.
Or they can message him on his Facebook page https://www.facebook.com/kathskitchen66/