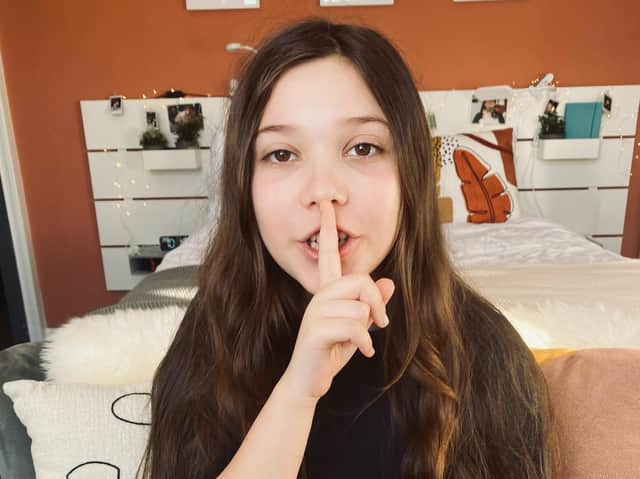 Quiet before the fundraising storm: Daisy Heath, who wanted to thank the doctors and nurses looking after her dad Guy.
Daisy, 10, a pupil at Poulton-le-Sands Primary, raised an amazing £1,450 for charity Rosemere Cancer Foundation through her sponsored silence, having originally set herself a target of just £100.
Donations poured in after chatterbox Daisy, helped by mum Jaimie, posted details of her plans on the fundraising website JustGiving.
Daisy, who exiled herself to her bedroom for much of her no talking challenge, explained she wanted to raise money to thank the doctors and nurses at Rosemere Cancer Centre, Lancashire and South Cumbria's regional specialist cancer treatment and radiotherapy centre at the Royal Preston Hospital, who gave beloved dad Guy, 47 emergency chemotherapy there on New Year's Eve.
Quiet before the fundraising storm: Daisy Heath, who wanted to thank the doctors and nurses looking after her dad Guy.
Without the treatment, arranged by consultant Dr Alison Birtle, who had met Guy for the very first time just two days before, Daisy, Jaimie and big brother Tom, 14 were told it was likely Guy would only have a couple of weeks to live.
Estate agent Jaimie, who has been married to Guy, a regional business manager for payment provider Worldpay, for 15 years after meeting him while showing him a property, said: "We have been overwhelmed by people's generosity.
"Friends and family shared details of Daisy's silence with their friends and family and so we have received some wonderful donations and lovely messages of support from people we have never met. We are so proud of Daisy, who came up with the plan herself, and so grateful to everyone, including members of Morecambe Parish Church, who held a day of prayer for us."
Jaimie continued: "Guy was diagnosed with a very rare, very aggressive form of bladder cancer on December 15 2020 although he first became poorly in June.
"Guy wasn't even due to see Dr Birtle until January 18 but we managed to get his appointment brought forward, which was just as well as by New Year's Eve, a scan showed he had an 8cm mass on his liver. When he went for that first chemotherapy treatment, we were told it might not work and we might still lose him but that it was our only hope."
Jaimie, who lost her dad Allan Kent and two aunties to cancer within days of each other just over a year ago, added: "Thankfully, Guy has responded remarkably well and continues to do so. He is starting his fourth cycle of chemotherapy at Rosemere Cancer Centre and there is even talk of immunotherapy to follow.
"Guy has been fantastic. He is so full of energy and bounce. He is a brave, brave man. He says his only concern is me and the children. He has redecorated Daisy and Tom's bedrooms and the bathroom and sorted paperwork but we are holding on to hope."
Rosemere Cancer Foundation works to bring world class cancer treatments and services to cancer patients from throughout Lancashire and South Cumbria being treated not only at Rosemere Cancer Centre but also at another eight local hospital cancer units across the two counties, including that at the Royal Lancaster Infirmary.
The charity funds cutting edge equipment, research, training and other cancer services and therapies that the NHS is unable to afford. For further information on its work, including how to make a donation, visit www.rosemere.org.uk