Brits plan to spend £3 billion on gifts for their dogs this Christmas
This Christmas, dogs in the UK will receive treats in Christmas stockings, appear in Christmas cards, go on Christmas Day walks and indulge in their very own Christmas dinner.
Watch more of our videos on Shots! 
and live on Freeview channel 276
Visit Shots! now
A study of 2,000 dog owners in the UK revealed nine in 10 (88 percent) are likely to buy their dog a Christmas present this year, with over two-thirds (70 percent) expecting to hang a stocking for their dog.
Indeed, dog owners are planning to spend £55.72 on average on Christmas gifts for their pooch during the festive season, totalling over £3 billion to be spent across the UK.
The research was commissioned by premium dog treat brand, Denzel's, which has launched a range of festivethemed treats for dogs after noticing an increase in demand for products that allow pooch parents to include their furry friends in the celebratory moments throughout the year.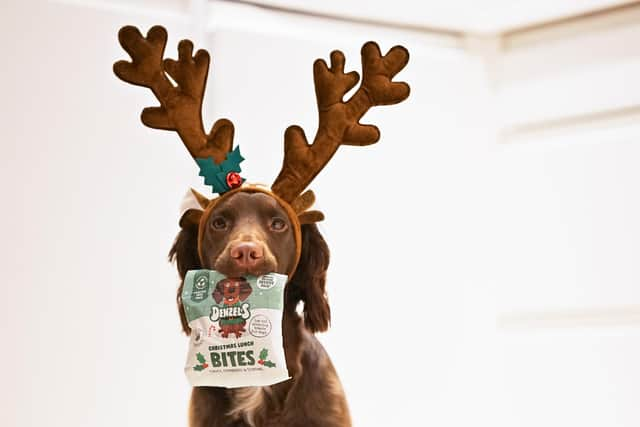 In the lead up to Christmas, more than half (56 per cent) are likely to buy an advent calendar for their dog, with 69 percent planning to sign their dog's name on the Christmas card, 66 percent likely to include their dog in the family Christmas card picture and many (36 percent) planning to get a picture of their dog with Santa.
The poll also revealed over half (51 percent) of dog owners are likely to visit a dog-friendly pub, restaurant or hotel with their dog during the festive season.
On the big day, 58 percent of dog owners are likely to dress their dog in a festive accessory or outfit whilst 88 per cent will walk off Christmas dinner with their owners.
James Lacy, co-founder & CEO at Denzel's comments: "Now more than ever, pet parents are wanting to ensure every member of the family is included in holiday traditions and big celebrations, so we're making it easy for dog owners to give their dogs the Christmas they deserve.
"At Denzel's, we've taken the most loved elements of Christmas – from the food menu, to gift giving, to the countdown to the big day – and created playful dog-friendly versions, so no one misses out on the best parts of the festive season."
The research went on to find that, when it comes to the food, nearly two-thirds (64 percent) of pet parents are likely to cook their dog a festive dinner this Christmas Day, with 46 percent preparing Turkey or their own dinner with all the trimmings (46 percent).
And whilst not all festive foods are safe for furry friends, some of the top treats owners wish they could give their dogs if they could find dog-friendly options available include: turkey with gravy (60 percent), pigs in blankets (51 percent), stuffing (21 percent), mince pies (19 percent), Christmas cake (15 percent), Gingerbread (12 percent) and Candy Canes (9 percent).
In response to these findings, Denzel's has released a limited-edition range of Christmas treats for dogs, including:
Christmas Advent Calendar (192g), including 24 delicious bags of treats with six different recipes to enjoy, including some of Denzel's special edition festive favourites, RRP £12.50
Christmas Lunch Bites (100g) made with turkey, cranberries and stuffing, RRP £2.90
Pigs in Blankets Bites (100g), made with British pork, apple and honey, RRP £2.90
Gingerbread Soft-baked Sticks (75g), made with delicious gingerbread, carrot and fresh banana, RRP £2.50
Mince Pie Tasty Tray Bakes (50g), made with a festive blend of oranges, cinnamon, ginger and cranberries, RRP £1.75
Pigs in Blankets Baubles (50g), filled with Denzel's' soft 'n' squishy Pigs in Blankets Bites, RRP £2.00
Christmas Grotto Gift Box (175g), including a mix of Denzel's' Gingerbread Soft-baked Sticks and mini packs of its Christmas lunch Bites and Pigs in Blankets Bites, RRP £5.00
Christmas Stocking Selection Box (245g), including four packs of special edition festive treats such as Mince Pie Traybakes (50g), Gingerbread Soft-Baked Sticks (75g), Pigs in Blankets Bites (50g) and Turkey and Apple Rewards (70g), RRP £10.00