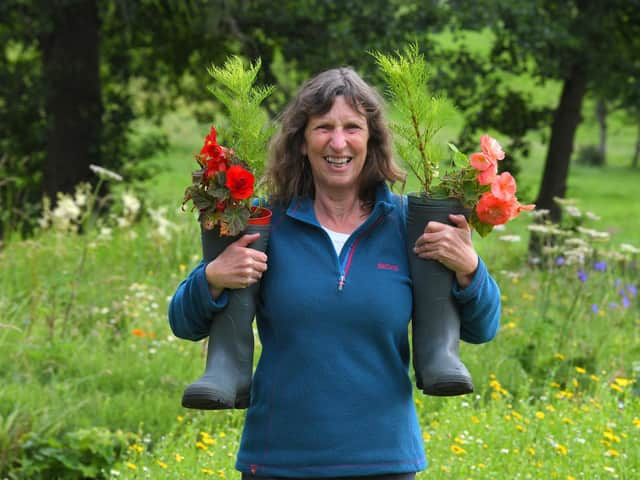 Maureen Priestley of Chipping in Bloom with her flower filled wellington boots (Photo: Neil Cross)
But green fingered residents in one Lancashire village were determined not to let the pandemic destroy their horticultural ambitions.
Chipping in the Ribble Valley is renowned for its colourful flower displays and this year residents have been invited to put their best feet forward.
Maureen Priestley of the Chipping in Bloom team of local volunteers said: "The Northwest in Bloom competition will not be running this year due to Covid 19, and of course, Chipping in Bloom were unable to get out and about as during lockdown to do their normal activities.
Liam Moran with his blooming boots
"However, we still wanted to promote gardening and make the village 'bloom' so we encouraged everyone to get involved in 'Boots in Bloom' by recycling their old boots, filling them with plants and displaying outside their homes."
Word soon spread and Maureen reported: "Boots have appeared around the village on doorsteps and windowsills, and this has added interest to the daily walks and hopefully those isolating can see them from their windows."
In addition a wildflower and wildlife garden, first created in 2012 by Chipping in Bloom near St Mary's Catholic church, has also provided a local haven.
Parts of the eco-friendly site was redesigned in 2017 to include an annual wildflower nectar patch and a butterfly zone.
Julie Kent with her planted up boot
Maureen said: "It is on land kindly loaned by St Mary's RC Church."
Each year local schoolchildren collect the seed from the haven's mini meadow and usually help sow the seed. This year due to the Covid-19 restrictions Maureen scattered the seed herself.
Meanwhile plant power has also been used to give a topical theme to the flower display around the wishing well on the village car park. Maureen said lots of bright colourful plants have been used to help create a rainbow effect in honour of the NHS.
Tracy Laffy admiring the display at the Brabin's Shop and Cafe in Chipping
Maureen Priestley in the wildflower mini meadow near St Mary's church
Maureen Priestley checks out the insect hotel at the community garden near St Mary's church
Maureen tends the flower patch in the haven near St Mary's church
The wildflower and wildlife haven also has a pond