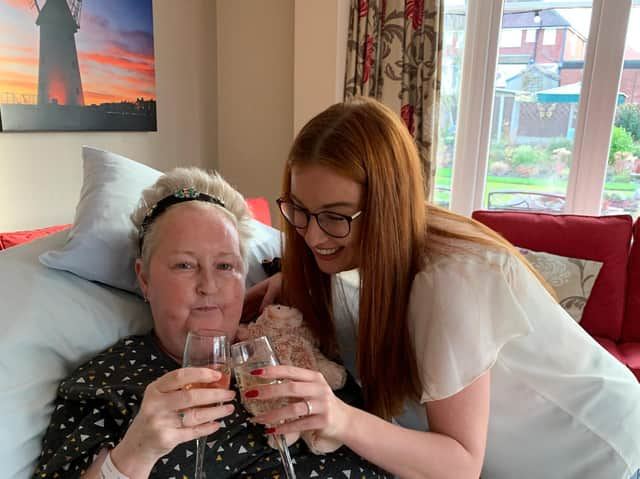 Elaine and Jade
This Christmas will be Jade Veitch's first without her festive-mad mum Elaine, who died little over a year after being diagnosed with an aggressive brain tumour.
Despite the devastating news, Elaine – known by many as Lainey – remained upbeat and positive throughout her final year, getting to spend quality time with her daughter and sharing special moments that have created lifelong memories for Jade.
Now Jade, 28, is using this Christmas to say a special thank you to the staff at Trinity Hospice, who she says made her mum's final weeks the best they could possibly be.
Elaine with daughter Jade and her bridesmaids at the hospice
She said: "Mum was the biggest Christmas queen in the whole world. She was absolutely crazy about Christmas; her house was transformed into a Santa's grotto in December.
"In 2018, before she got ill, me and mum went to New York, and it was just amazing.
"We saw literally everything and looking back now it just feels like fate.
"We arrived home on her 56th birthday, five days before Christmas, and had the best Christmas and New Year with family. Everything seemed perfect. Then, in January, mum had a seizure, completely out of the blue."
Elaine and Jade in New York
Jade said tests at the hospital showed Elaine, a foster carer, had a brain tumour, and after two operations to remove it, doctors confirmed it was a stage four glioblastoma.
She underwent radiotherapy and chemotherapy, and though doctors said the cancer would ultimately cause her death, Jade said Elaine didn't want to know when.
She added: "Mum just wanted to make the most of the time she had, and we just had the best year.
"I moved back home to Blackpool from Manchester, and honestly I thought it would be a really sad situation, but I loved living with mum again.
"We did all this nice stuff, like we went to the Flower Show in Chester, and in November we went for a 'boozy brunch' with my partner.
"While we were there he proposed to me, and mum was shouting across the restaurant. It was so amazing that she was there for that; it was really, really special.
"We went to look at some wedding venues with mum, and she was there when we picked the one. On a whim we went to a dress shop nearby where I found my wedding dress. It really was so special that she got to see me in my dress and saw the venue."
In the run up to Christmas last year, Jade said she got some of her friends together – Elaine's little elves – for a decorating party at the house.
"Mum chilled upstairs, and when she came down she had to come through a Santa's grotto," she said.
But soon afterwards Elaine became unwell, and had to go back to hospital.
While she was there, she suffered another seizure – her first since she was diagnosed almost a year before.
She was allowed back home on her birthday and celebrated what was to be her last Christmas at home, surrounded by her family.
Jade said: "I cooked Christmas dinner for the first time in my life – it was the most stressed I had ever been!
"We had family visiting in and out all day, and mum was in really good spirits. We were so determined to give her the absolute best Christmas, and we did it, somehow."
Just a few weeks later, Elaine's health had deteriorated to the point she was unable to get out of bed.
She went to Trinity Hospice for pain management.
Jade said: "While she was there, my bridesmaids' dresses were delivered to the house. The nurses on the In-patient Unit suggested we got the girls together to try them on with mum there at the hospice, and that's what we did.
"For a whole day we moved her bed into the family room at the hospice, which we completely took over, and all the girls had their dresses on and looked amazing.
"Mum had her make up on, and we had a buffet and some bubbles. It was just the best day.
"While she was in Trinity, mum had visitors all the time, which was great. I even slept over some nights, which I didn't know I could do before she went in. We would sit in the room, put our soaps on and get a takeaway – just like we did at home. To be able to do that with her was incredible."
After a few weeks, Ela ine went back home, having made the decision that was where she wanted to die.
Jade said Trinity's nurses helped to put her at ease, and prepare her for what was to come.
"The closer it got to the end, the more I thought I would be able to do it," she said.I was just watching what all the nurses at the hospice were doing for mum, and I thought 'there's no way I'll be able to do all that'. But they were so patient with me, and made sure I had all the information, phone numbers, and even equipment we would need at home. I honestly feel like those nurses were my own life-saver. Everyone at Trinity was absolutely amazing. Mum really wouldn't have had the final days she did without them. They made sure she was as comfortable as possible, but just as importantly, they made sure I was comfortable with what was happening. At home, we had the community nurses visiting in the day, and the Hospice at Home team visiting at night. They couldn't have done more for us. Because of them, mum had the death she wanted, which is something I will always be so grateful for."