Blackpool couple banned from keeping dogs after six Jack Russell Terriers are found neglected
A couple from Blackpool have been banned from keeping all animals for a decade after neglecting six Jack Russell Terriers, three of whom were found in a 'fully emaciated' state at their home.
Watch more of our videos on Shots! 
and live on Freeview channel 276
Visit Shots! now
Ryan Seel, 28 and Debbie Slater, 34 of Peter Street, Blackpool, had admitted causing unnecessary suffering to three of the dogs, and failing to meet the needs of the six pets following a prosecution by the RSPCA.
The dogs, two male and four female Jack Russell Terriers, went on to make a full recovery and have since been rehomed thanks to the RSPCA's Blackpool & North Lancs branch.
Details of the case heard at court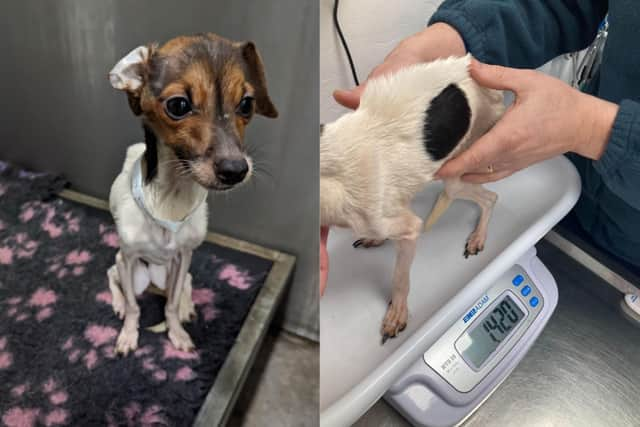 At a sentencing hearing on Wednesday June 28, Blackpool Magistrates Court heard how two environmental protection officers from the local authority had visited Seel and Slater's property on December 15 last year following noise and welfare concerns about a dog that was being left out in the couple's back garden for long periods of time.
In her evidence to the court, one of the officers said: "He showed us into the house and as we walked through the hallway into the dining room I noticed the Jack Russell's running round. I immediately noticed that they were looking underweight. I turned and looked into the living room and there was a lady sitting on the couch and she was holding another two Jack Russell's that also looked underweight.
"I asked them what was going on and their response was there was nothing wrong with the dogs. The man then let us pick up one of the Jack Russell's and you could see her ribs and hip bones. He explained that they had changed their food as they had lost a bit of weight and he said the one that he was holding had been to the vets.
"I asked him when this was and he replied two years ago. I explained that as soon as they noticed the dogs dropping weight they should have taken them to the vets straight away."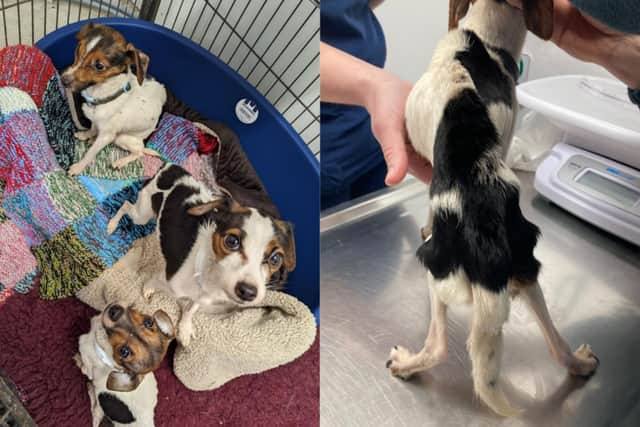 The dogs - Jack, Sasha, Angel, Coraline, Junior and Jazz - were removed from the house and taken for urgent veterinary treatment, with three of them being kept in overnight due to their very poor condition. The RSPCA was subsequently contacted and took the case forward.
What the vet said
In his evidence to the court, the vet who examined them said all six had not had their dietary needs met for a considerable length of time and this has caused them physical and mental stress. Three of the dogs were given body score conditions of just one out of nine and only weighed between 1.4kg and 1.6kg (3.08 - 3.5 lbs).
Speaking about one of the most underweight male Jack Russell Terriers, the vet said: "We attempted to take an ear prick of blood to check his blood sugar level but his circulation was so collapsed from the hypothermia that we failed.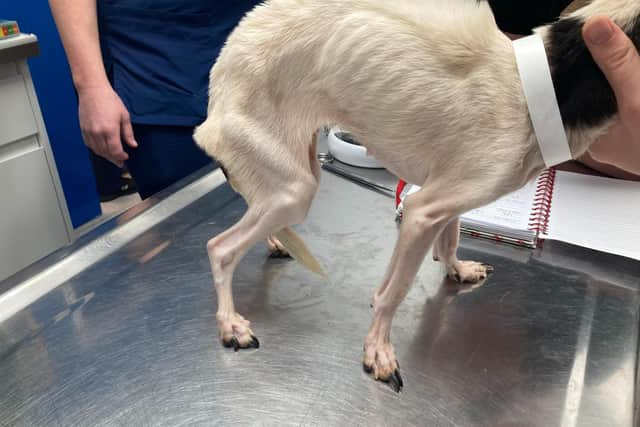 "Three of the dogs were fully emaciated, with not only no body fat but severe loss of muscle as well. They had so few reserves they could not maintain their own body temperatures and I would say from experience, were within 24 hours of dying.
"They should all have been closer to 4.5-5 kg (9.9 - 11.02 lbs) in body weight to achieve a body condition score of 4-5/9 which would be classed as ideal. To end up with such low body condition scores, the dogs have either been on lower calories than their body requirements for many months or starved completely for a shorter time."
The road to recovery
The court also heard evidence from RSPCA inspector Amy McIntosh who took the three most poorly dogs to be temporarily cared for at a private boarding establishment on behalf of the charity.
"They seemed very subdued and lacking in energy," she said. "They were struggling to maintain their body temperature when not under a direct heat source. All three were so small that they fitted in a cat basket together to be transported."
The dogs were kept under a heat lamp to make it easier for them to maintain their body temperature and fed five small meals a day. The court heard that when the inspector returned to collect them on January 2 2023, all three had gained noticeable amounts of weight and were barking loudly and bouncing at the gate as she arrived.
What other punishment did the pair receive?
In addition to the ten year ban on keeping all animals, Seel was given a 12 month community order, ten RAR days (Rehabilitation Activity Requirement) and 100 hours of unpaid work. Slater was given a 12 month community order and 10 RAR days as well as a four month curfew between the hours of 9pm and 7am.
Both defendants were also told to pay a £114 surcharge and £300 in costs. In addition, a deprivation order was imposed by the court on a Shar Pei belonging to the couple who was not the subject of any charges.
What does the RSPCA say?
Speaking after the case, RSPCA chief inspector for Lancashire, Simon Small, said: "It's clear from the condition the dogs were found in that their needs had not been met for some considerable time, so much so that three of them may not have lived much longer had they not been rescued.
"We'd like to thank the local authority for their assistance in bringing this case to court, in what is a good example of what we can achieve together for animal welfare. We'd urge people to seek timely advice and support if their pets appear to be losing weight or if their personal circumstances change."