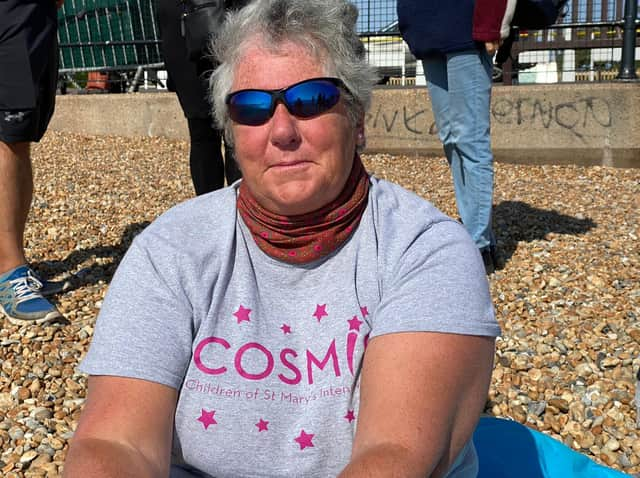 Audrey Hellen was part of a relay team which swam the English Channel
Audrey Hellen, 58, took part in the swimming challenge as part of a fundraising relay team.
Audrey, who works a non-medical anaesthetist at Blackpool Victoria Hospital and lives in Longton, near Preston, said: "I am so proud to say that I am now an officially registered channel relay swimmer.
"It was the most emotional, surreal fantastic experience I have ever had.
"It the culmination of my four year dream to swim the channel that I started planning for five years ago.
"I managed to make it happen after I I joined a Facebook group for COSMIC - Children of St Mary's Intensive Care, in February last year, which organises channel swims, and now we've all finally achieved it.
"The charity raises funds for St Mary's Hospital in London - the same hospital which looked after my son Sean.
"He is 34 year old now, but when he was three months old he was treated there for a very serious chest infection and needed oxygen."
"My target is £2,000 and I've nearly reached it."
The team shared the swim by taking part in relays, with a support boat on hand for swimmers to climb into.
In total the team swam for more than 14 hours.
Earlier this year Audrey swam the equivalent of the English Channel without leaving her home, after she set up a pool in her back garden.
She raised more than £1,200 for Blackpool charity, Hug in a Bag, which helps support breast cancer patients.
Last year spent six months undergoing chemotherapy, followed by a month of radiotherapy.