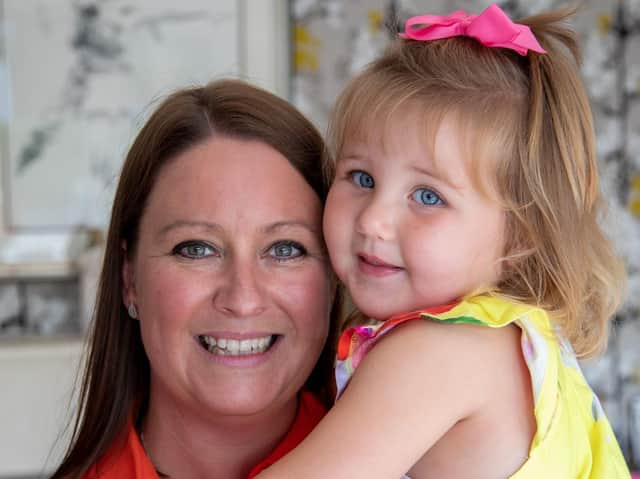 Florence Watling pictured with mum Laura
The Preston youngster has been honoured by the British Heart Foundation for her courage and contribution to educating the public about heart disease.
Florence was born with transposition of the great arteries, a condition where the major blood vessels leaving the heart are the wrong way around,
She was presented with her Young Heart Hero award in a virtual ceremony hosted online by TV presenter Vernon Kay.
Florence needed an operation within two hours of her birth. Her mother Laura said: "When Florence was born, we couldn't hold her straightaway as she need to be stabilised for her first operation. Then, when she was just 12 days old, she had open heart surgery to switch the two arteries. Nothing could prepare us for how poorly she looked after the operation. She was attached to so many tubes and wires, she just didn't look like our little girl, but she was alive."
After recovering in an intensive care unit and then a cardiac ward, Florence was finally able to leave hospital after two weeks.
Laura Watling said: "Florence's recovery since the operation has been remarkable. She is an utter delight, full of life and absolutely thriving. Thanks to the amazing team at Alder Hey, and the research of the BHF, she can now hope to enjoy a relatively normal life. Words can't express how grateful we are."
Florence was nominated for her award by Emma Dickinson, BHF fundraising manager. She said: "Florence has raised the profile of heart disease ensuring that the country is aware that anyone can be affected at any age.
British Heart Foundation award winner Florence Watling of Preston
"Her work with the BHF has helped raise both money and awareness to a national audience. Florence really has become a great advocate for the BHF. She likes to tell her story with her Mum by her side to ensure that people are aware of little girls like her. She is an inspiration as a survivor and as an advocate for the BHF."
•The BHF heart hero awards celebrate individuals of all ages who have shown immense strength in the face of adversity or have made a significant impact in helping those living with heart and circulatory diseases.
* Usually a black-tie event, this year's awards were transformed into a star-studded virtual event hosted on YouTube. Nominees also included phenomenal fundraisers, extraordinary medical professionals and ordinary people who have done extraordinary things to save people's lives.