Audrey swam the English Channel from her garden pool - now she's doing the channel swim for real
A Blackpool health worker who swam the equivalent of the English Channel without leaving her back garden is set to swim the channel for real in the next few weeks.
Friday, 31st July 2020, 10:37 am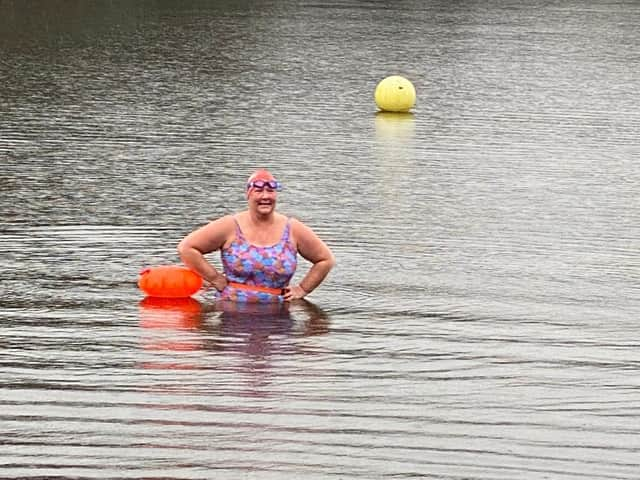 Audrey Hellen is in training for her English Channel swim
Cancer survivor Audrey Hellen set up a pool at her home back in May and swam the equivalent of the channel at the rate of more than a mile a day, for more than a month.
In the process, she raised more than £1,200 for Blackpool charity, Hug in a Bag, which helps support breast cancer patients.
The mother-of-one relished the chance to exercise because she had spent months undergoing intensive treatment for potentially fatal breast cancer.
The six months of chemotherapy, followed by a month of radiotherapy, were gruelling and tough and certainly took their toll on Audrey, who has worked as a non-medical anaesthetist at Blackpool Victoria Hospital since 2007.
Now, having completed the swimming challenge, she is set to actually swim in the English Channel itself, as part of a fundraising relay team.
Audrey, 58, who lives in Longton near Preston and is now in remission from cancer, said: "I had been intending to swim the channel as part of a team last year, but unfortunately my illness bumped that one off.
"Now that I am in recovery, I want to try again!
"I have been swimming in the sea and training for the very different experience of swimming under tidal conditions.
" I am able to do it after I joined a Facebook group I found charity called COSMIC - Children of St Mary's Intensive Care, in February last year.
"It raises funds for St Mary's Hospital in London - the same hospital which looked after my son Sean.
"He is 34 year old now, but when he was three months old he was seriously ill with a chest infection and needed expert care at the hospital after it got worse.
"COSMIC runs two or three channel relay boats every year.
"Every channel swimmer has to complete a qualifying swim in cold water, undergo a full medical and join the channel swimming association to be allowed to swim the channel.
"Now I'm finally ready and the plan is to do the swim on August 26."
Audrey is trying to raise £2,000 to help the the St Mary's Hospital charity. So far she has raised more than £1,500.
To help, visit: www.justgiving.com/fundraising/audrey-hellen2