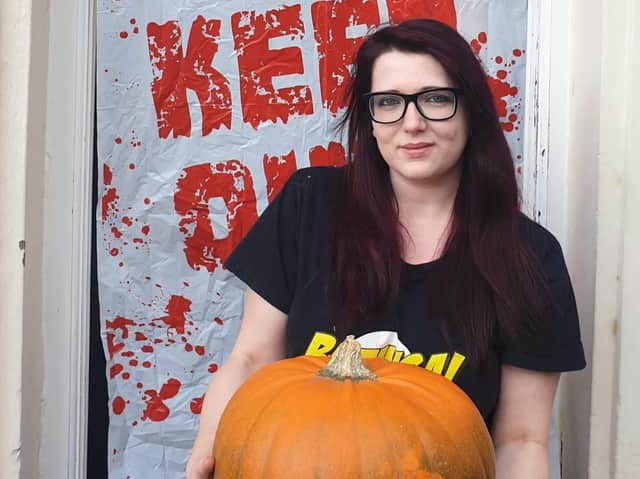 Gemma Kilshaw created an interactive pumpkin trial for Ashton residents this halloween
Inspired by the popular Cottam pumpkin trial, parents in Ashton can ensure their children don't miss out on halloween fun this weekend.
The idea, which will see coronavirus measures in place while kids trick-or-treat, has taken off rapidly with more than 70 streets now signed up.
Gemma Kilshaw, 25, of Oswald Road, said: "I thought it would be great for the kids to do because we have a good community here in Ashton. I thought it would be nice to set a trial up where we live because I knew people would want to take part.
Although children will need to 'keep out' of other people's houses, they are being encouraged to safely take part in the trial in their bubbles
"There is no knocking on doors and people can go along the trial in their bubbles so their safety comes first. People have opted to leave sweets out at the end of their garden and bottles of hand sanitiser too.
"It is a creative way for children to still have fun, without interacting with other people from outside their house bubbles. It will be great."
Gemma created a checklist as part of the trial, meaning children can be given a sweet every time they find a decorated house from the map.
The halloween spirit is high in Ashton, with pumpkin carving, garden decorations and life action witch performances set to take place.
Families that wanted to be involved in the trial had to submit the name of their street to the online Facebook group, where Gemma then created an interactive map outlining the various stops.
"The response from people has been great and they have been really supportive of the idea, they just want to see their children have fun and enjoy halloween after the past few months of lockdown," said Gemma.
"We now have have well over 60 or 70 streets taking place in the trial. The main focus is to walk round and see the decorations that everyone does. We usually we go away during half term to see our family but we cant this time, so wanted to still do something to make it special."
The trail, which will take place between Friday, October 30 and Sunday, November 1, still gives families the opportunity to dress up in horrifying attire and indulge their sweet tooth – all while remaining at a safe distance and adhering to guidelines.