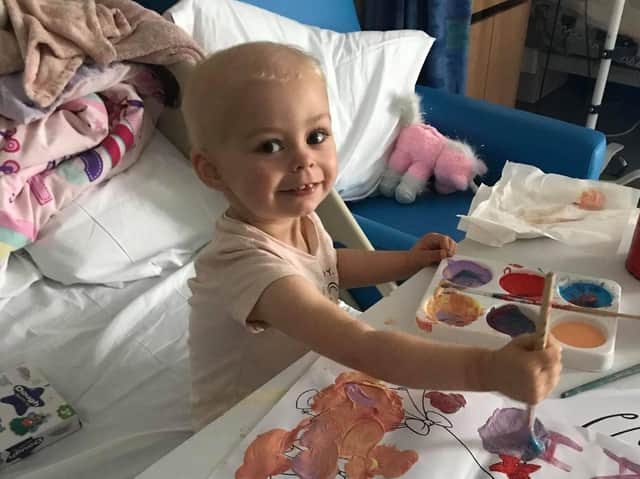 Two-year-old Amalie sits cheery and smiling despite her diagnosis
Now, family and friends are tackling a 21-mile sponsored walk to raise money to continue supporting the family who's little girl is one of the only people in the UK living with a Malignant Rhabdoid tumour.
At just two years old, Amalie Jae Harkins lives with aggressive paediatric soft tissue sarcoma in her kidney. The cancer is so rare that less than one child in every million is diagnosed with the disease in the UK.
In a bid to tackle the cancer, she had a tumour and her kidney removed last month and now spends most of her days at Manchester children's hospital, facing several months of chemotherapy treatments.
Jodie, Amalie's mum has called her daughter a 'warrior'
All before her third birthday, Amalie, from Ingol, will have undergone 14 rounds of chemotherapy in a mission to fight off the disease.
Close family friend Fiona Wilcock and neighbour Stephanie Nicol have now organised a sponsored walk of Preston's Guild Wheel to raise money for the family, who have three other children - Ezmaé, Ava and Jax - and support them throughout Amalie's treatment.
The Go Fund Me page has welcomed an outpour of support from almost 300 donors, raising over their £6,000 milestone so far.
Fiona, who works for the NHS, said: "It has been devastating for the family and it is very difficult to come to terms with, but it is amazing to see Jodie and Gaz gathering some strength now and so many people are wanting to support them.
Toddler Amalie, and her siblings Ezmaé, Ava and Jax
"They are spending so much time at the hospital and not working so this money would be brilliant support for them. Initially, me and Steph wondered what we could do to give them something to look forward too because Amalie's diagnosis had been complicated.
"Amalie has touched so many people's hearts and that is clear by how many people are starting donate and offer support. People who don't even know them have been so generous, it has been a real community effort."
Fiona said that staff at Lancashire police and her colleagues at the Lancashire and South Cumbria Foundation Trust have been supportive and helpful in spreading the word and raising awareness.
First starting off the Go Fund Me page with a target of £500, Fiona said they have been 'amazed' by the response and generosity of people during the pandemic.
Family, friends and local businesses are helping raise money for the family
She added: "For the first two weeks I barely slept because I felt the pressure of raising money to support them. All I did was start by setting up the page, and everyone has responded so well to it.
"They are like my family, my daughter Evie is best friends with Jodie's daughter Ezmaé, so that is how we became close. Covid-19 has been so tough for everyone and I have realised it is the small things that really make a difference.
"I knew that something had to be done to help them out because Amalie is such a happy little girl and although we can't get rid of her illness, we can still help where we can."
Jodie, 35 and 37-year-old partner Gareth Harkins, had first noticed that something wasn't right with Amalie back in May this year when they saw blood in her nappies.
It was during the Covid-19 lockdown that the family were then handed the heartbreaking news that results from an MRI scan showed their youngest daughter had cancer after tests on a tumor on her kidney.
The intense rounds of chemotherapy make the two year old very unwell, but mum Jodie describes her little girl as 'an absolute warrior', saying she 'defies the odds at every corner'.
Helping where they can, family and friends are completing the sponsored walk on October 11 around Guild Wheel.
And a number of local businesses are rallying round to help by donating prizes in support for a charity raffle planned for early November.
Bella Marie, an Italian restaurant on Garstang Road are among those involved, offering a week of 'eat out to help out' and donating money to the cause.
The sponsored walk, named 'Amalie's Avengers' is due to take place this weekend and currently has 45 attendees walking in support of two-year-old Amalie, dressed as superheroes.
Fiona added: "Jodie now wants to raise awareness of children's cancers where she can. The diagnosis came as such a shock that it is really important to her. We spent September selling the cancer ribbons to donate to charity."
To donate to Amalie and her family visit the Go Fund Me page here.
More information on cancers that can affect children is available here.