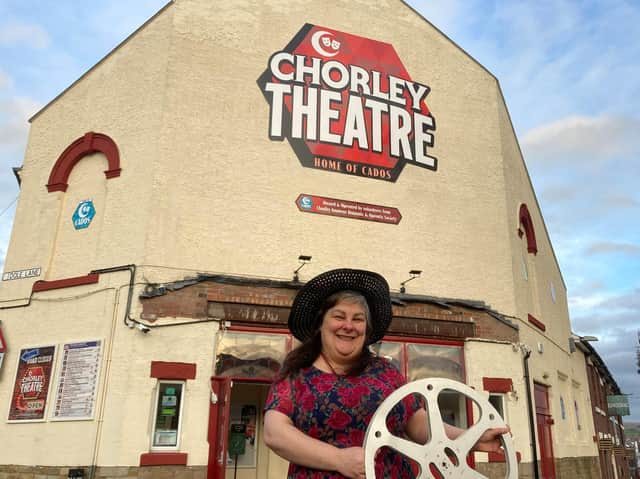 Reely happy . . . Estelle Bryers outside Chorley Theatre
The award comes just weeks after the theatre received a lifeline grant of £51,025 as part of the Government's £1.57 billion Culture Recovery Fund (CRF) to help face the challenges of the coronavirus pandemic and to ensure it has a sustainable future.
This latest Lottery grant is from Film Hub North which supports film activity in the North of England as part of the BFI Film Audience Network.
An amount of £9,484 has been awarded to the theatre's Empire Cinema operations. from the Film Exhibition Fund, which will enable the Dole Lane theatre to continue to show a wide range of films and cinema events in 2021.
Films have been at the heart of the venue since it opened in September 1910, making it one of the oldest purpose-built cinemas still open in the UK. Although the venue now stages live events too, this award means cinema screenings will play an important role as they recover from loss of income caused by the coronavirus pandemic.
Chorley Theatre was forced to close in March, and was re-open briefly before the second lockdown came into effect.
It hopes to be able to re-open in December, with plenty of safety measures in place.
The line-up of films for December and beyond is still being finalised but will include big screen showings of the National Theatre Live production of War Horse, and a whole day devoted to the Will Ferrell family comedy Elf.
Events in 2021 will include new and classic films, foreign language and event cinema, as well as talks about the Carry On films and the first movie to be made from a podcast, The Parapod Movie.
Spokesperson for Chorley Empire, Estelle Bryers said: "I've been showing films here since 1990 and I'm delighted we can carry on.
"Our volunteers have worked hard making sure the venue is safe and had to rethink many of the ways we work, but the support of Film Hub North strengthens our resolve to carry on.
"This is our culture and our way of life, and is of huge significance to the community. So many of our audience were so grateful we'd re-opened and they
had somewhere safe and welcoming to come."
"A trip to the cinema gives people a break from the world, the chance to meet other people (at a safe distance, of course) and have a laugh. We're so grateful for the National Lottery grant as we can now plan more events for audiences to look forward to."
Boasting the biggest cinema auditorium in the area, Chorley Theatre should re- open on Saturday, December 5, with family-friendly showings of Elf and more films yet-to-be-announced.
A second screen is planned for the New Year which will mean even more films can be shown at the venue.
For more information visit www.chorleytheatre.com