Loneliness on the Rise: UK's silent epidemic reveals alarming increase in retirement isolation
Recent research by Bower Home Finance reveals the UK is in a silent epidemic, with an alarming increase in retirement isolation over the past 50 years. In addition, Google searches around loneliness have surged by 97% in the last 12 months, including a breakout in Google searches for the phrase 'I feel so lonely'.
Watch more of our videos on Shots! 
and live on Freeview channel 276
Visit Shots! now
Over the past few decades, our nation has undergone a significant transformation in its social structure, marked by a notable increase in the prevalence of single-person households. Back in the 1970s, these households represented a mere 17% of the population, but today, they constitute a striking one-third.
The number of individuals living alone has also doubled since the 1970s, rising from 6% to 13%. This shift reflects the changing dynamics of our society, as the average household size has gradually decreased from 2.91 people in 1971 to 2.35 in 2011.
Furthermore, the advent of technology has played a pivotal role in reshaping our lives, with almost every home now equipped with phone access in 2023. This is a stark contrast to the year 2000 when only 58% of households had mobile phones, a number that surged impressively to 86% by 2011. These transformations underscore the evolving nature of our society and highlight the profound impact of technology on our interconnectedness.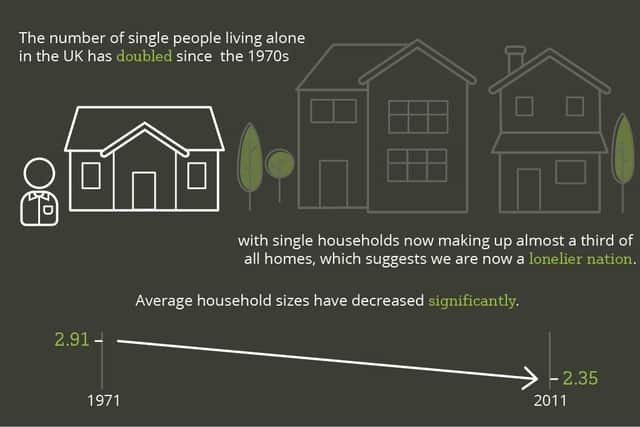 Geoff Charles - CEO - Bower Home Finance: "Over the past 50 years, the UK retirement landscape has undergone some significant changes. These developments, which range from the rise in life expectancy to the staggering increase in single-person households and pension reforms, are leading to a rethink of what retirement means for both individuals and society as a whole."
"Examining the data on loneliness and the rise of one-person households is a reminder of how, surprisingly, our society has seen a rise in isolation even as it has become more connected via mobile phones and the internet. The devastating effects of loneliness cannot be understated, especially when they are exacerbated by financial worries, which can be particularly difficult for people living alone."