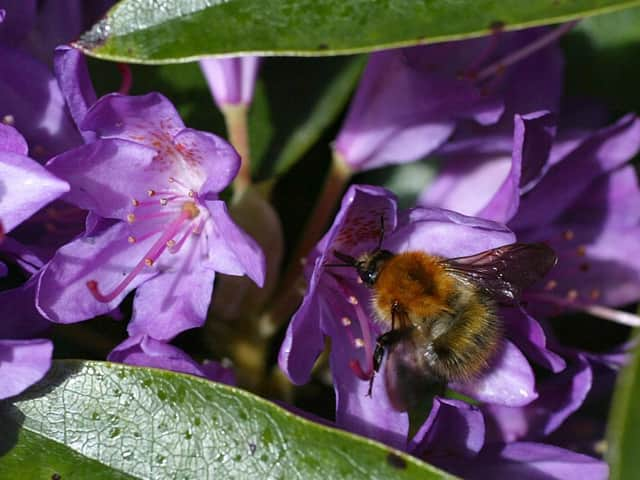 Picture: Bruce Fitzgerald
While Trump's mob stormed the Capitol on January 6, Secretary of State Robert Jenrick quietly announced that he wouldn't be calling in plans for a new coal mine in West Cumbria.
The mine, the first on British soil in over 30 years, was previously approved last year by Conservative, Labour and Liberal Democrat councillors on Cumbria County Council.
It now looks set to go ahead despite condemnations from every major environmental organisation in the UK, and even Greta Thunberg.
Now we learn that Environment Secretary George Eustice has given farmers approval to use the bee-killing pesticide, neonicotinoid thiamethoxam.
The pesticide was banned by the European Union in 2018 due to the fatal effect it has on bees, and the Government pledged to keep pesticide restrictions after Brexit.
In fact, we were promised greater environmental regulations post-Brexit by Michael Gove when he was Environment Secretary.
The Wildlife Trusts have launched a campaign to the Prime Minister to urge him to overturn this decision.
To sign their petition and send a letter to your MP, visit: wildlifetrusts.org.
Government accountability
Sir Keir Starmer has requested an enquiry concerning the Government's handling of the Covid pandemic, which has so far not materialised although promised by Boris Johnson some time ago.
I honestly think that this could turn out to be a much bigger scandal than the expenses fiasco and I can foresee that the Government will probably do all it can to delay and put all kinds of obstacles in the way of a far-reaching enquiry.
When the stones are finally turned over, what's found underneath will probably be an eye-opener.
First and foremost, the things that should be looked at should be the costs of the PPE contracts given to companies that were never in a position to deliver.
Were they given the contracts by ministers on a 'nod and a wink' from members of their own party and people outside of Parliament who had a vested interest in getting these lucrative contracts?
Some shipments of PPE never even materialised or were found to be sub-standard when delivered .
A lot of people have got extremely rich on the billions of pounds of tax payers' money that has been squandered over the last nine months.
Just to show that there is no bias on my part, credit where credit is due, the vaccine rollout seems to be on track and we can't wait to get our jabs this week at the Penwortham Cricket Club so that we can finally see our son Geoff, daughter-in-law Natalia and our lovely grandaughter Scarlet.
Elections are the foundation of our democracy and people should not have to choose between voting and their health.
People have a right to vote safely and early postal voting will enable them to do that.
People can already ask for a postal vote.
However, many people believe this is still on medical grounds or being absent during voting time, which is no longer the case.
In order to overcome any confusion, every voter should be sent an early postal vote form by their local council, along with a pre-paid return envelope, so they can choose to use a postal vote.
Following the cancellation of last year's local elections and the Police and Crime Commissioners Election, both of which have been rolled over to coincide with the county council elections election in May, there is now growing speculation that this year's election will be postponed.
Up to now the Government has stated that they will go ahead as normal, but without any clarity regarding how this will be carried out and ensuring that those who want to vote can do so safely.
However, the Government assurance regarding decision-making has recently been prone to last minute U-turns, which has created chaos and confusion amongst the public.
Local councils are now seeking assurances to enable them to plan for election while protecting the public and their staff who will be responsible for administering the elections during the pandemic.
The cost of the extra safeguards that will be required in the election should not fall on local tax payers, the Government should step up and provide the extra funding.
Labour Group Leader at Lancashire County Council