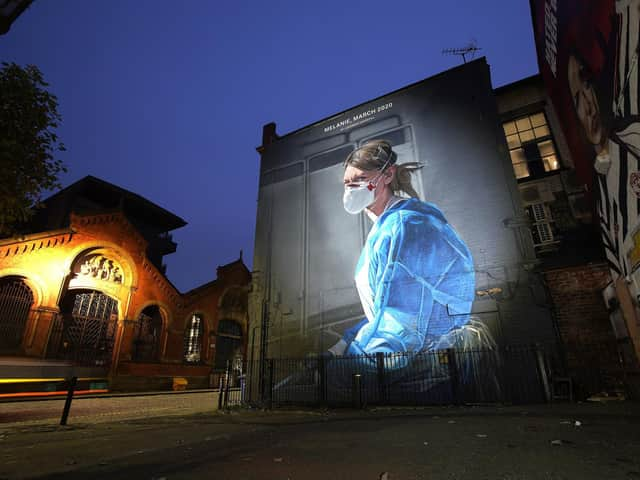 A mural depicting NHS nurse Melanie Senior, based on a photograph by Johannah Churchill, which The National Portrait Gallery commissioned artist Peter Barber to create in Manchester's Northern Quarter (Photo by Christopher Furlong/Getty Images)
I remain in awe of the scale of their extraordinary care, sense of duty, commitment and resilience displayed in relentless challenging circumstances.
I hope that the Government responds in kind and in a meaningful way, acknowledging and generously rewarding the supreme efforts of hospital staff, who have served their communities in such an exemplary way.
It requires substantially more than fine words, public applause and the insulting proposal of Matt Hancock – a medal. I believe initiatives should be explored, such as: A generous pay rise, an extra week's holiday, free meals for six months, sabbaticals, bursaries and organisation with local business partners to provide tickets for restaurants, gyms, theatres etc.
Whilst these ideas would be complex to organise, it is no reason not to do it.
If the will is there it could be achieved. I further believe that all communities would gain from this investment as the morale of NHS staff is understandably low and such an initiative would go some way to ensure they feel valued and their morale boosted, staff would be likely to be energised to further serve their communities by providing quality care/treatment.
Searching for Albert's family
We're the American relatives of Albert Rimmer from Chorley and are looking to locate his daughter Grace and family.
Her children were Nicholas, Naomi and Christopher if memory serves me right.
Our 97-year-old young mother June Seibert is the daughter of Constance Yates Maichen, who was Albert's aunt.
June and Albert would be first cousins.
She is interested to learn of what has become of her mother's sisters who remained in England after 1920 when several of them moved to Chicago, Illinois, USA.
Time is not really on our side due to her age, and we are trying to accommodate her on this request.
We recently learned Albert passed away about 10 years ago but are interested in reconnecting with Grace and family if they are still in the area.
The last time we saw Albert was in 1993 when he was at his home on the
Isle of Man, where he had retired to with his beloved horse.
Before that I had visited him several times at his home near Cage Far, Whitestake.
Thank you in advance for any assistance provided.
Join in World Day of Prayer
This year's World Day of Prayer, Friday, March 5, focuses on Vanuatu.
As the earth rotates, this 'day' is a sustained 24 hours or more of praise and prayer, focused each year on a different country, this year Vanuatu.
Christian women from the focus country prepare a service in their own language, which is translated into over a thousand languages and dialects and handed on through international and national committees, to be used in local groups of churches.
Sadly, there will be no service in Lancaster this year because of Covid restrictions.
There will be some online services, including an international service.
If you can go online and would like to see a virtual service, visit the WDP website https://www.wwdp.org.uk/ for links to UK services and an international celebration – and much more.
If you would like to take part, but cannot go online, your local church may be able to supply you with a service booklet or summary that you can use at home.
World Day of Prayer was formerly Women's World Day of Prayer but is now open to everyone.