Readers' letters: Concern over possible loss of Lancaster hospital
Like many Lancaster residents, I have been treated at the Royal Lancaster Infirmary and have an affectionate regard for our hospital and the care I received.
Saturday, 17th October 2020, 3:45 pm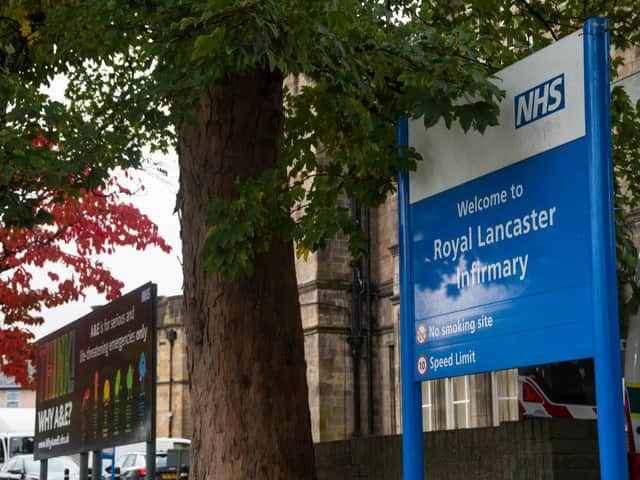 Royal Lancaster Infirmary
So when I saw that part of the Government's plan to build new hospitals might involve a so-called super hospital serving a massive area, and that it may not be based in Lancaster, my reaction was a very personal one.
Very many people, in Lancaster, Morecambe, and across a wide local area, will have some personal connection to the RLI and will have some concerns about the possibility of our district losing the RLI.
When I needed the hospital, it was nearby. Inevitably the proposed super hospital will, on average, be much further away from its patients, and probably not located in one of the major population centres that it will serve. In emergency situations these distances could cause major problems.
Even in routine cases, additional travel is challenging for those who are unwell and bad for the environment.
Visiting too becomes more difficult and expensive, especially for those who rely on public transport.
On this basis alone, the current structure, where both Lancaster and Preston have conveniently placed hospitals, looks to be the right one.
The RLI is also a major employer here, and if we were to lose it, there would be negative consequences for our local economy. There would also be cost and disruption for staff as they travel further and longer to work, often on public transport.
Investment in our hospital would of course be welcome. But investment in our health and care professionals seems to be a more immediate need. In many other countries, health and care workers had their efforts in the pandemic recognised with pay rises.
Here we gave them applause and badges, and the stress of the pandemic is continuing for them.
The Government's vision of a distant sunlit uplands will not help them just now.
There will be a public consultation on these options, so I encourage everyone to watch out for that consultation and get involved. If the public speaks up strongly for a new hospital in Lancaster, then I believe that outcome can be achieved.
Chairman, Lancaster and Morecambe Liberal Democrats
Re: The RSPB's stance on gamebird shooting. The call for licensing of driven grouse shooting and the threat of a possible ban in future is both disproportionate and unnecessary. Licensing of grouse shooting would add another expensive layer of bureaucracy that would not resolve wildlife crime and environmental issues that are already being addressed with real vigour.
Grouse moor operators are heavily involved in the restoration of key habitats such as blanket bog and the protection of at-risk species including curlew, lapwing and indeed hen harriers, where we have seen a record increase this year. This is entirely consistent with RSPB's charitable objectives.
At least a million pounds a week of conservation work takes place on land managed for grouse shooting.
The success of this management has led to many of these areas rightly being worthy of protection.
Every aspect of work grouse moor operators and gamekeepers undertake are already subject to regulation and legislation that continues to protect a tremendous array of wildlife and precious habitat.
But in climate and nature emergencies we need to do more – and we will. Only this week, countryside organisations have asked government to endorse new science-based principles of game bird management that are in line with accepted international conservation standards and will ensure the delivery of Government's ambitious 25-Year Environment Plan. Each shoot must demonstrate a net gain for wildlife and nature for all of society. The shooting community is constantly updating and improving the way it works.
Chairman of the Moorland Association
Donald Trump reminds me of the many film roles which portrayed devious characters which he could so easily have played. Starting with Willie Stark in All the King's Men, a ruthless, ambitious budding politician.
Helped by his smooth tongued promises, like super con man "Professor" Harold Hill in The Music Man, although little chance of a happy ending.
Followed by Dr Strangelove, filling the many roles similar to Peter Sellers, although more particularly madcap General Buck Turdgson.
Now moving into the paranoid state of Lt. Commander Queeg in the Caine Mutiny, as the storm of the coronavirus overwhelms him, and Republican former crew members now doubt his sanity.
Is it time Boris re-evaluated his admiration of the President?