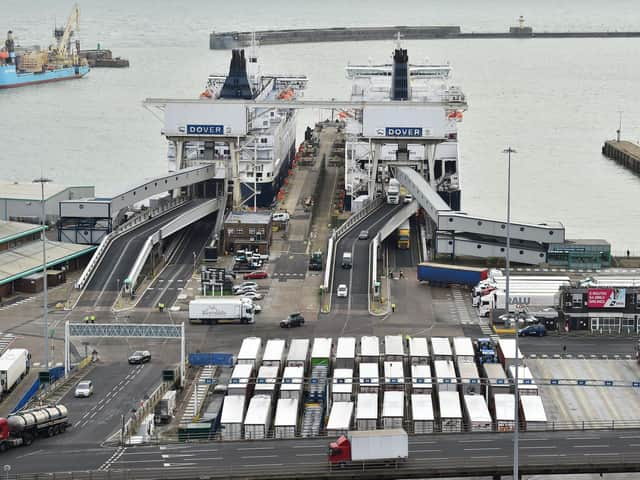 Lorries are seen parked waiting to be loaded at the Port of Dover Photo: GLYN KIRK/AFP/Getty Images
The assessment sets out a "reasonable worst-case scenario" for the UK's borders.
This suggests that the flow of freight through the ports could be reduced by between 20 per cent and 40 per cent.
Trucks going in either direction could be delayed by up to two days – a big problem for fresh food.
If the ports become congested and the flow of goods is reduced, stockpiles will be required as food traders will need to build reserves to cover the likely shortfall in January and beyond.
For this they will require warehouse space.
The snag is that there isn't any; most of the spare capacity has already been allocated for personal protective equipment prior to the current lockdown.
So, deal or no deal, disruption is likely to be severe and will hit the poorest and the weakest first and worst.
Boris Johnson and his gang of smug cronies (aka 'the Government') has yet to show any sign of concern. Do I detect a whiff of "I'm all right Jack"?
Setting out vision for new Lancashire
As more and more people celebrate Lancashire Day by flying the red rose, a call has gone out to reunite Lancashire and create a powerful county-region.
Lancashire United, to be launched today, has set out a vision for a county-region that would reintegrate Greater Manchester and Merseyside with the remaining parts of Lancashire, with an elected assembly having similar powers to those enjoyed by the devolved nations of the UK.
Now is the time to set out a vision for a new Lancashire which is forward-looking, inclusive and democratic, with real powers to address the economic, social and environmental challenges of the 21st century, post-Covid 19.
If you live here, and identify with Lancashire, we want your support for a strong county-region.
Lancashire United is a cross-party body which welcomes people from all backgrounds and beliefs.
The local government changes in the 1970s, which saw proud Lancashire towns lose their identities, was a disaster.
Few people identify as 'Greater Mancunians' but many people from Bolton, Rochdale, Wigan and elsewhere remain stubbornly proud of their Lancashire heritage.
We think the same is true for Merseyside.
Imagine what a powerful region it would be if the economic clout of Manchester, Liverpool, Preston and their neighbours was brought under one regional umbrella, in partnership with strong local government.
Lancashire United's aims are:
The promotion of a progressive, inclusive Lancashire identity that is welcoming to everyone regardless of race, ethnicity, gender or age
The creation of a new Lancashire county-region which includes Greater Manchester and Merseyside;
The formation of a democratically-elected Lancashire Assembly, using a fair voting system;
The devolution of powers over transport, health, education, economic development, culture and tourism to the county-region, with democratic oversight;
The encouragement of informal Lancashire-wide networks in the areas of higher education and research, culture and the arts, sport and other areas;
The encouragement of democratic forms of social ownership – 'a co-operative commonwealth';
The empowerment of local government and town/parish councils;
Close and collaborative working with our neighbours in Cumbria, Yorkshire, Cheshire and Derbyshire and the formation of a Northern Confederation.
I'm truly flabbergasted and annoyed as to how Lancaster has been placed in Tier 3 restrictions.
We have one of the lowest cases per 100,000 in the country and definitely have the lowest number of cases in Lancashire.
I understand there are a significant number of patients being treated for Covid in Lancaster Hospital but the hospital is taking all the patients from the South Lakeland area.
This area has a significantly higher number of cases per 100,000 than Lancaster but doesn't have a hospital to treat Covid.
Yet South Lakeland/Cumbria residents find themselves in Tier 2.
I feel Lancaster is being continuously penalised, firstly for other areas of Lancashire, which are not abiding by the rules, and secondly now the fact we have patients from neighbouring counties which does not have the capability to treat Covid.
How is it going to be possible for the people of Lancaster to get back to enjoying some kind of normality if they are continuously penalised for factors out of our control?
How do we get out of this?
We have abided by the rules as a town/communities/families but the shocking news will cause nothing but anger and hardship to families and businesses throughout the whole of Lancaster.
Would the person driving the truck I repeatedly flashed at, approximately 3.30pm last Friday, November 20, while driving on the M55 to Preston, make sure all the things in his/her truck are properly safe and secure in future, as two black buckets flew off the back of his/her truck and nearly damaged my car.
As he/she did not stop on time, they would have been a hazard on the road for other drivers and could have caused an accident.
Maybe he/she could stop more promptly if there is a next time and clear up after him/herself.
As I was not driving fast at the time, it seems he has been very negligent.
Name and address supplied