Jane Clare, One Foot in the Grapes, describes  Gewurztraminer  as an amazing, intoxicating and aromatic wine.
With a gewurtz you'll get rose petal notes (think Turkish delight) and lychee, and a flirt with sweet spice.
Watch more of our videos on Shots! 
and live on Freeview channel 276
Visit Shots! now
Guess what's been on everyone's lockdown lips
Gee, if you've been following, and indeed I hope you have, then you'll know that I've been compiling an A-Z of drinks know-how in a very informal fashion.
It's so informal that this week's letter G compilation is brought to you as I'm wearing flip flops and a sun hat. Oh boy, it's hot today.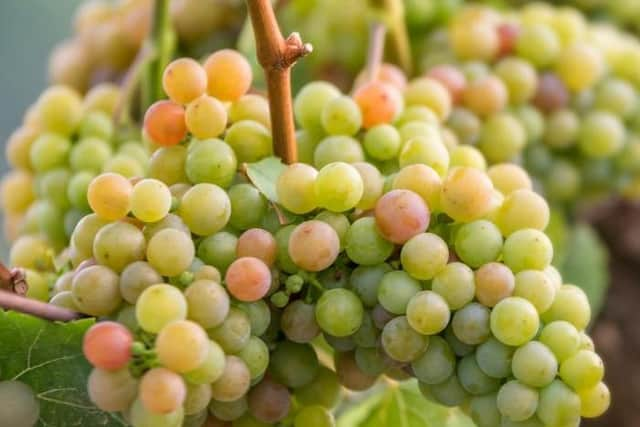 You can bet your bottom dollar it will be raining as you read this. Make a cuppa and sink into the world of Gs.
An obvious one might be gin. But have we had enough of gin? Probably not.
Figures released this month by the Wine and Spirit Trade Association (WSTA) tell us that 83m bottles of gin were sold in the UK last year.
That was me sorted anyway, I don't know what the rest of you were drinking.

Seriously though, those gin sales were worth around £2.6bn so there's a huge market out there. You'll have your favourite gin I'm sure, and I bet many of you enjoy the ones created in our beautiful part of the world.
WSTA explained that in 2013 there were 152 distilleries in the UK, and 96 of those were in Scotland. Fast forward to 2019 and there were at least 441 distilleries, with most of them in England.
It seems that early signs from lockdown indicate that gin has been the most popular spirit being bought online. Saying all of that, these numbers also show that gin sales are growing at a slower pace than in recent years, as we all experiment with other spirits and cocktails.
What prosecco did for the sparkling wine world, it now appears that gin is doing the same for the spirits world. It is sparking our interest, encouraging us to explore.
And so, alphabet wise, I've firmly put the G facts into the delicious G&T which we all love.
If you've been keeping up, I've been discovering cocktails in my lockdown hours. Locktails, as you know.
I'll keep with the G theme, and the gin theme, and share this one which I found on Difford's website. Gin Basil Smash. I vary the measures (don't judge me) but basically this is it: Muddle some basil leaves in a shaker, pour in 60ml of gin, 20ml of lemon juice and 10ml of sugar syrup. Shake, then strain into a glass with ice. Chin, chin.
Let's switch to a wine glass and pour a metaphorical glass or two, with these grapes in mind.
Gewurztraminer. It's a bit of a mouthful to say, but a wonderful mouthful to sip.
I was once described as being like gewurztraminer wine, mysterious, a bit spicy, but with feminine touches. I think the jury is out on that one.
However, as for the wine, I love it; with a gewurtz you'll get rose petal notes (think Turkish delight) and lychee, and a flirt with sweet spice. Often there's a flash of ginger too. It delivers a heady mix of aromas, oh my it is one of my favourites. It's a really good wine to pour alongside a Chinese or Thai dish; they form a great palate partnership. You'll find one in most good wine shops and supermarkets; including this one, Tesco Finest Alsace Gewurztraminer (£9).
Pour a glass of Soave Classico and you'll be pouring a white wine which has the grape garganega at its heart.
First, a sideways thought on the word "classico". When you see that on an Italian wine label (such as Chianti Classico) it means the wine comes from the original heartland of a wine region.
Back then to garganega. It delivers sensations of almond, white flowers and lemon. It is often blended with the grape trebbiano.
A few years ago I tasted the latest vintage of Inama Soave Classico (the 2018 is in Majestic for £15.99, or £13.99 in a buy six deal). I was sitting in the gaze of an ancient church in the Soave region. I was delighted by the wine's notes of limes, stone fruit, camomile, honey and almonds. Thanks to my G, garganega, it was wonderful.
Jane is a member of the Circle of Wine Writers, on social media as One Foot in the Grapes. Email [email protected]
It seems that early signs from lockdown indicate that gin has been the most popular spirit being bought online
Last week English Wine Week was underway. It would have been rude of me not to try one or two. This one was a conversation-starter in our garden; Bolney's Lychgate Bacchus 2019 (RRP £14.99, online from bolneywineestate.com and nakedwines.com).
Our household (the two of us) had a discussion about the wine's delicious lift of citrus, apple and elderflower.
And then I read the label.
It suggested I might be able to sense jasmine, so I nose-dipped back into the glass. And sure enough, there it was. Amazing. I hadn't noticed it on my first nosedip. That's one of the reasons I love wine. It just keeps on giving.