Jane Clare of One Foot in the Grapes recommends Beaujolais wines for Valentine's Day
You can open a bottle of something special and raise a glass to the one you love.
Watch more of our videos on Shots! 
and live on Freeview channel 276
Visit Shots! now
It's the time of year we celebrate the special person in our lives. Yes, Valentine's Day is heading our way. This year will be so different. There'll be no romantic candlelit meals in our favourite restaurant; there won't be a last minute scramble for a babysitter so you can head off to watch a film.
This you can do. You can open a bottle of something special and raise a glass to the one you love.
That's if you're still talking after weeks of lockdown, home schooling, banana bread, tracking down missing jigsaw pieces and arguing over The Masked Singer.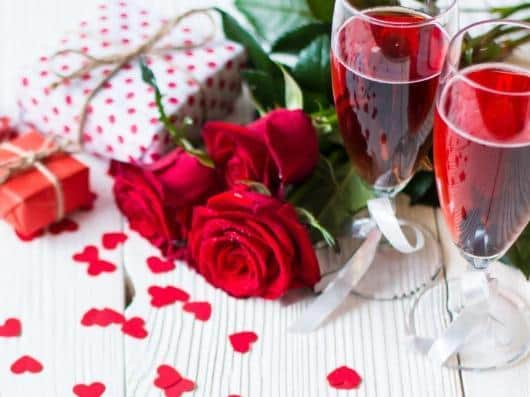 I'm so keen to help you celebrate Valentines this year, that I'm pausing my regular alphabet journey; my jaunt around the world of drinks in the form of an A-Z.
I would have reached the letter T this time around. Let's make it a T for Togetherness. Here's a handful of sips you could share.
One of the 10 Beaujolais crus is perfectly named for this time of year: Saint-Amour. What do I mean by a Beaujolais cru?
Beaujolais is a wine region in France just beyond the southern tip of Burgundy. They're lovely wines to share, fresh and full of red fruits because of a special way of fermenting the gamay grape. Like all French wine regions, there's a hierarchy of style and quality. Simple fruity wines are labelled Beaujolais AOC; then a selection of villages producing wines of better quality in the north of the region can use the label Beaujolais Villages; within those villages, there are 10 producing the most complex wines. They are the crus. Fleurie is the most well-known but Saint-Amour is one of them. What's not to love. Well you can love this red wine from Saint-Amour: Domaine Des Côtes de la Roche 2018 (£11.50, online at The Wine Society).
It's a lush ruby colour with aromas of crunchy dusky red fruits and red cherries. If you don't like big, tannic reds, Beaujolais wines are for you. This wine is soft in the mouth, with notes of red plums and cherries and a teeny fleck of spice. A Valentine's Sunday roast of beef or chicken would sit happily with this wine. Oh, pop it in the fridge for 15 minutes before you pour.
Now then, how about some Valentines pink fizz.
Bouvet Ladubay Saumur Rosé Brut (£13.99, or £11.99 in a buy six deal at Majestic) is made in exactly the same way as champagne. And look, there's no champagne prices here.
Bouvet Ladubay has won 500 medals and awards for its wines from the Loire Valley, where this one is created using the cabernet franc grape. It's a light pink, with notes of raspberry, lemon zest, and white peach. As you celebrate your love with a sip or two, indulge yourselves with a slice of cheesecake or raspberry pavlova. I'll stay in the Loire Valley with this one: Gratien & Meyer Cuvée Flamme Crémant de Loire Brut Rosé NV (£12.95, online at slurp.co.uk). The rosé wine is a blend of pinot noir (which makes up more than half of the style) and chenin blanc and chardonnay. Those grapes bring a wine to your glass which is crisp with citrus, delicate with redcurrants, raspberries and cranberry, and flirts ever so slightly with floral notes. Well it is Valentine's. Flirting is allowed.
Maybe a classic English rosé is more your style. Henners Rosé NV (£40, online at hennersvineyard.co.uk) is a very special thing; which is at it should be for the one you love.
The sparkling wine is crafted with the traditional champagne grape varieties pinot noir and pinot meunier, which are grown in coastal vineyards in east Sussex.
It elegantly pops a flurry of English strawberries, both fresh and dried, and the traditional wine making style also creates a sense of creaminess in the mouth.
Strawberries and cream. Lovely.
Jane Clare is One Foot in the Grapes, an approved programme provider for the Wine & Spirit Education Trust. If you'd love to understand wine lists and food pairing know-how, email: [email protected]
You may want a celebratory pink with credentials that suit your New Year lifestyle. I'm told a 100ml glass of Think Pink (£39 for two, online at thinkwinegroup.co.uk) has only 62 calories. The wine's label features the word 'Lite' and it is also vegan friendly and organic. It's very much aware of its target market. The bubbles aren't very giddy; shy aromas include red fruit, citrus and white peach. The taste sensation is dry, with a minerality which takes over those same shy fruit flavours on the finish. As an aside: It's worth knowing that a sparkling wine labelled "brut nature" doesn't have added sugar; but it could have complexity and a hint of natural sweetness.