Jane Clare of One Foot in the Grapes reaches the letter Q in her alphabetical journey of drinks.
A quarantini. We're in lockdown again and so we're back to locktails - cocktails in lockdown!
Watch more of our videos on Shots! 
and live on Freeview channel 276
Visit Shots! now
Quite the right drop for a few weeks of quarantine
This alphabetical journey dipping into all kinds of drinkies via the structure of an A-Z was difficult when I got to the letter K. But my word the letter K has nothing on the letter Q. It's a challenge.
But I won't give up. I'll fulfil my obligation. The letter Q may do the introductions but the heart of the themes may lie elsewhere.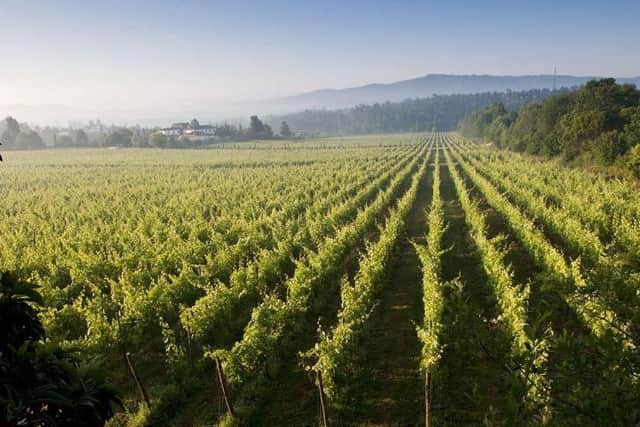 I've decided to think of it like an election. I'm defeated, but I'll still proclaim victory and hope no-one notices or complains. I wonder if anyone's done that before.
Right. I'm rolling up my sleeves and jumping feet first into the letter Q with the word quality.
Quality is an interesting thing in the world of wine.
A wine may have all the stamps of approval it needs under regional wine laws but that doesn't mean you have to like the wine. Your personal perception of quality may be declared in lovely northern tones such as "oooh, I like this wine! It's quality!"

Wine is such a wonderful thing but it's also about personal preferences. I'll tell my wine students that I don't know if the colour blue I perceive is the same colour blue that they see. Our taste sensations may genetically vary; we expect and like different things. A wine may be full of quality in terms of the ideal grape-growing environment, created in the best, most modern winery, under the guidance of top winemakers, aged under perfect conditions and following the wine regulations of its region. It could carry titles of gran reserva, or DOCG, or classico - but if you don't like it, you don't like it.
A fascinating quality story lies in the Médoc in Bordeaux. In 1855 the emperor of France, Napoleon III, asked that the wines of the region be classified. The Bordeaux brokers ranked around 60 chateaux in terms of the prices of the wines, based on the quality of the wines at the time. Those five tiers of classification almost stand today with the same chateaux. They're known as the classed growths.
The classification was based on the quality of the wines at the time - 170 years ago - and continue to drive the market today. Are they still wines of quality? Well yes the majority are.
You're not going to see much of a major review of the system any time soon. The wine producers can demand more money for their wines by default of being included in that quality classification.
But of course there are other quality wines produced in the region which aren't included in the classed growth system created decades ago.
Look out for Bordeaux wines labeled Cru Bourgeois. There's some super-lovely wines. I'll move on. I've rather loved being in and around my next Q word over the years. The word is quinta and in Portugal a quinta is a wine-producing estate. I've visited quintas in the Douro where port is made. One in particular - Quinta da Roêda - was fascinating. It is Croft's flagship vineyard estate with a visitors' centre in the old stables. The sun beat down as I strolled through the many growing grape varieties which producers can call upon to create port. There are five main ones, Touriga Nacional, Touriga Franca, Tinta Roriz, Tinta Barroca and Tinta Cao and there they were in the sunshine.
By contrast I've tasted the delicious fresh white wines of Vinho Verde at quintas in Portugal. In Quinta de Azevedo winemaker António Braga enthused me about his wines as we stood in the pouring rain, before eating lunch in its beautiful 15th century manor house.
Another day, another quinta, and at Quinta da Torre I didn't expect to see kangaroos a-hopping and llamas a-spitting as I wandered around the estate. Ah, the joys and the quirks (a Q word there!) of the wine world.
Have I managed to wriggle my way through the Qs? Just about.
Jane is a member of the Circle of Wine Writers, on social media as One Foot in the Grapes. Email [email protected]
Here's a Q close to our hearts. But perhaps we wished it wasn't! A quarantini. We're in lockdown again and so we're back to locktails - cocktails in lockdown. I've had a sip of this limited edition vodka CÎROC Black Raspberry (RRP £35.90, Amazon). The crystal clear liquid delivers an autumn vibe of raspberries and forest fruits. I enjoyed it with a simple clink of ice. Or how about this as a quarantini: CÎROC Velvet Crush.
Shake together 40ml CÎROC Black Raspberry, 15ml red Vermouth, the juice of a lemon wedge and dry tonic water. Garnish with lemon and a black raspberry. I can vouch that this quarantini lifted the spirits in my social bubble.