Jane Clare of One Foot in the Grapes reaches the letter N in her alphabetical exploration of drinks
Starting with Black Tot Day Navy rum that is dark, rich and heavy, and blended from a number of rums from around the Caribbean, including Barbados, Jamaica, Trinidad and Guyana.
Watch more of our videos on Shots! 
and live on Freeview channel 276
Visit Shots! now
I'm up to the letter N in my alphabetical exploration of drinks. My journey has been mainly wine-related, but in the interests of fairness I've dipped my toe into other beverages and this week will be no exception.
Here's my first nugget in the Ns. I've recently been reading up on distillation and the first N I'm bringing you appears in the chapter on rum.
The N is Navy Rum. I'm sure you've heard of it, but do you know what it is, and bizarrely, it's connection with feeling groggy? British sailors were given a daily tot of rum from around the mid-1600s. This stopped on July 31, 1970 which became known as Black Tot Day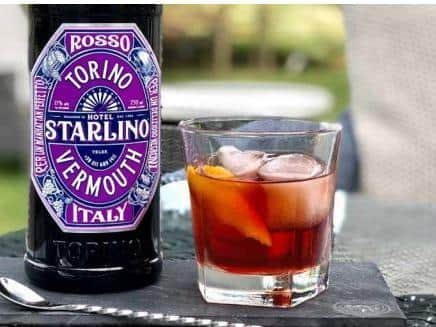 Navy rum is dark, rich and heavy, and blended from a number of rums from around the Caribbean, including Barbados, Jamaica, Trinidad and Guyana.
Navy rums often have caramel added to the blend which darkens the colour and adds burnt toffee notes.
The daily tot was originally half a pint of spirits (wow!!) but in the 1740s Admiral Edward Vernon introduced the practice of diluting it with one quart of water.
He was known as Old Grog because of the coat he wore, made from a material called grogram.

And so our word 'groggy' comes from these early days of navy rum. Sailors would douse gunpowder in rum. If it lit, despite the drenching, then the sailors knew the rum hadn't been over-diluted. I enjoyed discovering these rum facts!
I'm feeling sad as I introduce my next N - the Napa Valley in California.
I was there last year and enjoyed amazing wines and a lunch in the company of inspiring Napa winemakers.
Napa was right there in the mix when I had positive thoughts about this A-Z many weeks ago. But this week I have a heavy heart, as fires are raging through the region with thousands of people having to evacuate.
On the internet I discovered a running list of Napa Valley wineries which have been destroyed or damaged in the so-called Glass Fire in recent days. Already numbers exceed those affected by the fires which raged in the region in 2017.
It's such a terrible thing to happen to a region which is home to the most stunning cabernet sauvignon wines, rich chardonnays and delicious sparkling wines.
The Napa Valley put New World wines on the map and yet it produces only four per cent of California's grape harvest. It doesn't feel the right time to jovially celebrate Napa; but you can find out more about this wonderful theatre of wine at napavintners.com.
You could also, as I've just done, support the region in its recovery by donating to the Napa Valley Community Disaster Relief Fund at donatenow.networkforgood.org
When lockdown hit us I didn't make banana bread or tease some soda bread into life. I made negronis.
I began to explore the world of cocktails. I wasn't alone in that pursuit of locktail knowledge, as I know many of you did likewise. Negroni wasn't a sip I would turn to before lockdown, but oh my, it is now! Negroni is named after Count Camillo Negroni. In the early 1900s he asked the barman at his regular cafe haunt in Florence to strengthen his normal tipple - an Americano - with gin rather than soda water. The rest, they say, is history. In the summer I made my own version with one part gin, one part Campari and one part Starlino Rosso, which has come to our shores from Turin distillers Hotel Starlino.
It's available from Amazon, Master of Malt and Proof Drink for around £23.
I'm intrigued that before this year I didn't like the dry bitterness of that style of cocktail; but my palate has adapted and now I look forward to my weekend negroni.
You'll find several versions of a negroni online at the website Difford's Guide.
Jane is on social media as One Foot in the Grapes. She is also an approved programme provider for the Wine & Spirit Education Trust. You can study for a qualification online! Email [email protected]
I poured a delicious pop of bubbles for my daughter to celebrate a move into her new flat. It's bittersweet that I'm loudly singing the praises of this sparkling wine for all the reasons I've just mentioned.
Schramsberg Brut Rosé 2016 (£39.95, www.jameshockingwine.com) is produced from pinot noir and chardonnay grapes grown in Napa, Mendocino, Sonoma and Marin counties. Schramsberg ferments part of its juice in oak barrels to add complexity. The salmon-pink wine is aged on its lees in the bottle which adds toasty, buttery notes. Add aromas and flavours of strawberry, grapefruit and citrus and you have perfection.