Jane Clare of One Foot in the Grapes reaches the letter "I" in her wine alphabet
The story of Italian wine has come on leaps and bounds in the last 20 years
Watch more of our videos on Shots! 
and live on Freeview channel 276
Visit Shots! now
All I's on Italy in the latest stop in our wine alphabet
Here we are again, in my A-Z journey which is all about little stop-offs beginning with a certain letter, to celebrate the world of drinks. Well, mainly wine, if truth be told.
This week raise a glass to the letter I, concentrating on one big theme to celebrate the ninth letter of the alphabet – Italy.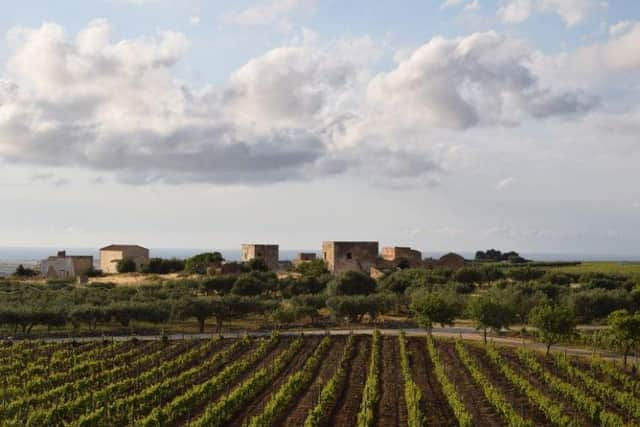 I bet you've all enjoyed a glass of Italian wine in the past. Maybe you're still a fan. Or perhaps you gave up on Italian wine the last time you had one of those straw-encased bottles of chianti in the 70s or 80s. Yes, that one that you turned into a lampshade.
We mustn't forget the impact Italy has had on the sparkling wine world with prosecco (but please let's also give a huge nod to Lambrusco, Franciacorta and Asti).
The story of Italian wine has come on leaps and bounds in the last 20 years. So where should I begin? Well I've asked an expert to help me.
I spoke to Jeremy Cowan, who works for Liberty Wines, a leading merchant and supplier to many of our local restaurants and independent wine merchants.

Liberty is a champion of Italian wines and so Jeremy is in a perfect place to make a perfect pitch to encourage us all to raise a glass of vino Italiano!
He says: "There are prestigious wines, like Chianti, Barolo and Barbaresco.
"But for me the most interesting at the moment, and the most accessible in flavours, are from the south.
"Places on the mainland like Puglia and Campania are creating great wines. Then there's Sicily. In Sicily, Mandrarossa has invested heavily. They brought in a world-renowned soil expert Pedro Parra and the wines they are producing are really interesting."
Wine producers are even exploring new sites in and around Etna, where the soil is rich with volcanic deposits. Says Jeremy: "In Sicily there are new benchmarks in quality. There are very affordable wines which may never reach the heady heights of Barolo and Chianti Classico. But these wines punch way above their weight. From a base level they're absolutely brilliant quality and great value."
Moving back to the mainland, Jeremy ponts me in the direction of wines from Primitivo di Manduria in Puglia – "really good value" – and then Jeremy also tells me about a grape I've never heard of – susumaniello.
He explains: "Its similar to primitivo. Mark Shannon, a Californian winemaker living in Italy, was intrigued by this grape, used in blends, and he realised the quality it had solo. It creates an amazing wine."
As for a white, pinot grigio is probably one we would all know about. But there's so much more to Italian whites.
Jeremy reminds me of some gorgeous ones. Grillo – "a slightly more oily texture" and fiano "more floral and aromatic with bags of lime" and falanghina "another superb wine".
I ask Jeremy what he would say to people who have moved away from Italian wines. He says: "Forget what you think you know – get back to Italy. There's been a lot of investment, and a lot of working to New World principles.
"The future's so bright for Italian wine. The quality has been basking in the sunshine for a few years now."
Liberty supplies wine to places such as Fullaloves in Longridge, Whalley Wines and D Byrne in Clitheroe.
Wines you can look out for include Mandrarossa 'Terre di Sommacco' Nero d'Avola 2016 (RRP £35) from Sicily which is created from grapes grown close to the sea, where the sun, breezes, and different soil types weave their magic. The result is a juicy, rounded wine with red berries and a hint of spice.
Or how about Mark Shannon's A Mano, Susumaniello (RRP £19.99) with its aromas of blackberries, blueberries and chocolate with hints of Mediterranean herbs.
Jane is a member of the Circle of Wine Writers, on social media as One Foot in the Grapes. Email [email protected]
The future's bright for Italian wine The quality has been basking in the sunshine for a few years
I don't know about you, but I've been nervously tipping my toes into real life after lockdown. I ventured out to see a friend for the first time in months. I took Old Vines in Young Hands White 2019 (£6.50, online at The Wine Society), a white from Portugal produced by a co-op of growers, Vila Real. It uses native grapes from the Douro valley, with up to 1,100 growers contributing to its creation. The wine includes malvasia fina grapes (40 per cent) and an even split between viosinho and rabigato.
We had a good chat, me and my pal. It was lovely to catch up and "chink chink" over this white which had flavours of apple, pear and grapefruit and a refreshing acidity.