Jane Clare of One Foot in the Grapes is back on the A-Z road of exploring the world of drinks.
A glass of liquid gold is Jane's focus. Rutherglen Muscat is a luscious, delicious, delight. If you've not heard of this fortified wine, strap yourself in.
Watch more of our videos on Shots! 
and live on Freeview channel 276
Visit Shots! now
I'm back on the A-Z road of exploring the world of drinks. I took a quick detour down a side street for festivities and stopped off briefly to bring in the New Year.
Now I'm not going anywhere as we're in lockdown. But we can dream of journeys can't we? This week I'm dreaming of Australia.
If you're new to this space, then this is what's what. I've been exploring a letter at a time in my missives and I've reached the letter R.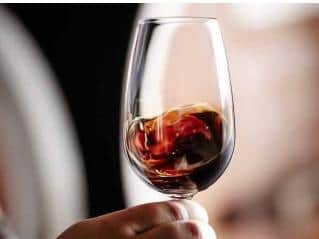 A glass of liquid gold is now my focus. Rutherglen Muscat is a luscious, delicious, delight. If you've not heard of this fortified wine, strap yourself in.
When you think of Australian wine, you may conjure up bold Barossa shiraz, or a delicious Margaret River chardonnay. But up to the 1950s fortified wine was the most important style of Australian wine.
This changed from the 60s when table wines took over and today fortified wine accounts for only two per cent of global Australian wine sales. Luckily one of them is made in heaven.
Rutherglen Muscat, as one wine producer told me, is both "sensual and sensorial" and "a bit sexy, full of complexity and flavour".
Jane Campbell, of Rutherglen wine producers Campbells was one of four producers on a special video chat I joined, organised by Wine Australia. I'd been invited to immerse myself in the wonder of Rutherglen Muscat, one of the world's headiest wines.
If you imagine rose petals, plum pudding, raisins, dried fruit, Turkish delight, caramel, coffee and Christmas spices you'd only be halfway to understanding what a Rutherglen Muscat tastes like. It is rich, full-bodied, luscious and simply dreamy.
Rutherglen is one of the key regions for Australian fortified wines and is about a three hour drive north of Melbourne. It is an ideal location to grow brown muscat grapes - Muscat Blanc à Petits Grains Rouge - which are at the heart of this sticky, sweet, nectar of loveliness.
Wendy Killeen of Stanton & Killeen producers explains: "Our summers are long and the temperatures range from the mid 30s in growing seasons, even up to 45 degrees.
"We're very lucky in that we're close to the alpine region which allows us to grow muscat grapes that have balance and a nice acidity.
"The wonderful mountain air comes down the valley into the vineyards in the evening which slows down that ripening process."
In Rutherglen, the muscat grapes are left on the vines as long as possible to deepen and accentuate the sugars and flavours.
Rutherglen Muscat is a fortified wine, which means the grapes are allowed to ferment and transition into alcohol. But that fermentation is stopped by the winemakers, with the addition of a grape spirit. It kills the yeast, leaving unfermented sugars behind. What's left is a sweet wine, high in alcohol and full of the grape's signature flavours. Rutherglen Muscat is aged and blended, often in a solera, where older and younger wines age together in barrels. The youngest are sold after aging three to five years. Other styles include the classic, aged from six-10 years and the "rare" classification with wines over 15 years old.
Stephen Chambers, of Chambers Rosewood Vineyards, said: "Our philosophy is that yes, these wines are sweet. But that's not the sum total of them. It's about what else is going on which makes it such an enjoyable wine to try."
Here's some of their wines: Campbell's Rutherglen Muscat (£12.99, 37.5cl, Waitrose); Chambers Rutherglen Old Vine Muscat (£22, 37.5cl online at Oz Wines); Stanton and Killeen Rutherglen Muscat (£17.99, 37.5cl, The Wine Society) and Pfeiffer Rutherglen Muscat (£17.95, 50cl, online at mrwheelerwine.com)
Rutherglen's Morris Wines was the big winner in the 2020 International Wine and Spirit Awards announced in November. It won Fortified Wine Producer as well as the top wine accolade, Outstanding Wine Producer.
I was privileged to sip the Morris Old Premium Rare Muscat (£99, 50cl, online www.ozwines.co.uk) as part of our video gathering. It's a super-special wine with the average age in the blend over 20 years.
It's a complex and luscious wine, with sweet notes of caramel, dried fruits, and Christmas pudding. It has an incredibly long, silky and heavenly finish.
Find out more at www.winemakers.com.au