Jane Clare of One Foot in the Grapes has reached the letter O in her  alphabetical travels around the world of drinks.
Orris root delivers lovely botanical notes to a gin
Watch more of our videos on Shots! 
and live on Freeview channel 276
Visit Shots! now
It's a week for wine and for sherry. Oh, and I'm throwing in gin too (not literally, or that could be messy). That's because I've reached the letter O in my alphabetical travels around the world of drinks.
If you've been keeping up you'll know I've set myself the challenge of browsing letters and throwing random drinkie thoughts at you.
My only self-imposed requirement is that I keep within that week's letter of choice. It's been a challenge sometimes; at other times I've struggled to pay homage to all the ideas shouting in my head.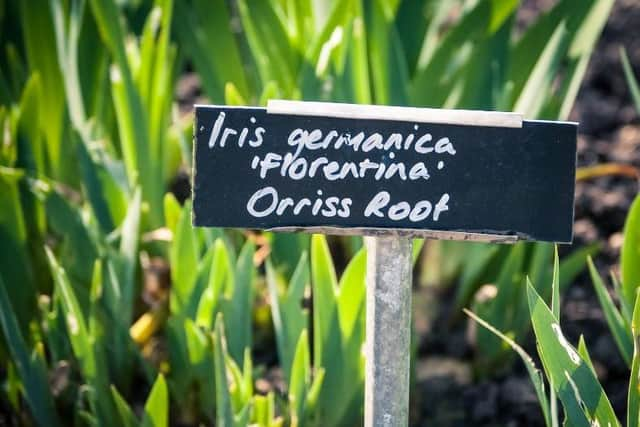 "Me, me!" said the bourbon as I sashayed through the Bs. But alas, it didn't make the cut.
Here we are at the letter O and I'll begin with a wine and a timely one. Last week I enjoyed one of my regular catch-ups with the Co-op's wine-buying team. In the way we've all become accustomed, it was via Zoom.
One wine we tasted was Campogrande Orvieto Classico (£8, down from £10 until November 3). The detectives among you will realise the O theme is ticked by the word Orvieto.
This is a wine region which surrounds the beautiful Italian city of the same name, Orvieto. It is known for its whites and can use a variety of grape varieties. The Co-op wine is a blend of four Italian varieties including Trebbiano. Co-op buyer Ben Cahill, chatting via our link, told me: "This wine is a 'classico' from the centre of the region and is made by one of the best producers in the world.

"It's a real stormer of a wine. It's lovely, light, refreshing. This wine has a floral layer, a real zesty lemon and lime kick that's delicious."
We both agreed lemon sherberts lived in this wine (not literally).
I don't have the space to mention all Italian whites in this A-Z series, but I'll share Ben's thoughts with you: "Italian white wines are phenomenal. People really should seek them out more. They are so uplifting."
I'll meander to gin and give a quick mention of the botanical orris root.
Wow we all love a glass of gin don't we. You may or may not know that gin begins life as a high-strength vodka, which is reduced in alcohol and then distilled with botanicals.
For a London Dry Gin one of them must be juniper. But if you've ever read a gin label you'll know there's a plethora of botanicals and fruits and spices which nowadays are literally in the mix. Orris root is one. It's a classic botanical which distillers turn to.
This gem of a botanical is not just perfumey in its own right, with floral, violet notes. It also plays an important part in helping other botanicals "fix" and leave a memory of themselves in a gin. Orris root is like a captain of the botanical team. Let's stick together! Let's do this! (A quick sidestep to Old Tom gin which you may have seen. Several distillers are now recreating this sweeter gin based on the styles so very popular in the 1800s).
I'll end with oloroso because I love a drop of sherry. Oloroso means "fragrant" and it's certainly that. It is one of my favourite things.
This year I doubt many of you will be trick-or-treating at Halloween. Family gatherings for Bonfire Night will be few and far between.
But if you want a warm, mellow, hug in a glass to help you forget about Lockdown Tiers (and tears) then reach for an oloroso.
I've spotted that award-winning Morrisons Signature Oloroso is around £6.25 for 37.5cl online at Amazon and the Morrisons website. It's delicious. The sherry is aged in American oak casks and that interaction creates a mahogany-coloured sherry which has aromas of sweet figs, bonfire toffee, hazelnuts and raisins.
Jane is One Foot in the Grapes. She's an approved programme provider for the Wine & Spirit Education Trust. To find out how to study for a wine qualification online then email [email protected]
I like being reminded how much I enjoy a style of wine. I've had a few months of "ooo, I haven't tried one of these in AGES".
This is the case with Côtes Du Rhône Villages wines. The word "villages" on a label says that the wine you're about to buy / sip / enjoy is a quality level up from an entry level style.
Which leads me to Tesco Finest Côtes Du Rhône Villages 'Signargues' 2019 (£8). I sipped this when I needed an autumnal pick-me-up. I could see the nights drawing in and the heating was creaking into action. It's a smooth cherry-laden red with ripe damsons. There's a tickle of spice and a nod to the aromas you find in an autumnal woodland.