Jane Clare of One Foot in the Grapes celebrates International Women's Day (IWD).
Reflecting on  some of the best  women winemakers in the world.
Watch more of our videos on Shots! 
and live on Freeview channel 276
Visit Shots! now
I've met many winemakers. I think they've got the best job in the world and are some of my very favourite people. They reach across to our senses creating wines which reflect a sense of place, their own tastes and to fulfil their aspirations.
Wines that bring us together over meals, celebrations, and, nowadays, endless Zoom gatherings.
I'm very jealous of winemakers. I mean, what a wonderful thing to do. If you know of any single male winemakers let me know.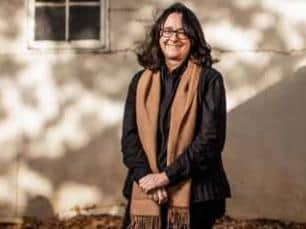 But never mind that. There are scores of women winemakers and as International Women's Day (IWD) is celebrated this week, I'm raising a glass to them.
It took a long time to convince one of my very strong-willed friends to avert her eyes from pinot grigio and try another grape variety. One which helped win my battle was this very wine: Les Jamelles Viognier 2019 (RRP £7.50, the Co-op).
It is made by Cathérine Delaunay who grew up helping on the family's vineyards in Beaujolais. She founded wine brand Badet Clément with her husband, which now sells millions of bottles worldwide. Cathérine is responsible for Les Jamelles and several of the wines are to be seen in and around our shelves. The viognier, from the Pays d'Oc in the south of France, is aromatic and ripe with white peach and apricot. It retains a lively, fruity, freshness which won my friend over.
The ripe and rich Domaine Clavel 'Syrius' Cotes du Rhône Villages St Gervais (£10.99, online at akeandhumphris.co.uk) is crafted by winemaker Claire Clavel. Claire's wine philosophy lies in biodynamics. She follows the influence of the moon across all aspects of her winemaking from growing, to pruning, to blending.
Domaine Clavel believes that "wine is a living product that continues to evolve over time. It is therefore important to take into account the lunar influences from the vine to the bottle".
The wine is a classic Rhône blend of grenache and syrah and is lush and silky with red and black fruits, with a spark of black pepper spice.
I love a glass of fizz in my life, and my next wine definitely brought sparkles on a cold and dim Saturday evening: Crémant de Limoux Brut, Tholomies, La Baume NV (RRP £11.99, online at The Oxford Wine Company).
This crémant is made by winemaker Marie Toussaint in the Languedoc-Roussillon region in the south of France. Marie began her wine journey harvesting at Moët & Chandon then went on to learn her craft in California, Corsica and Australia before returning to France.
Crémant de Limoux is one of my favourite crémant styles. Marie has created a wine which sings of a crisp, apple, biscuity bite, with citrus freshness and a softness of pear. I've taken a bit of a shine to cabernet sauvignon wines in recent weeks, in part because of the wonderfully enthusiastic Louisa Rose, who is the head of winemaking at Yalumba in Australia. I spent a hugely informative hour on Zoom, listening to Louisa's winemaking mission to create delicious wines. Louisa says: "I always think about cabernet being a serious, stand up straight sort of variety that makes for a really long-lived wine that is eminently drinkable from the day it is made, and in many cases for another 10 or 20 plus years."
Yalumba Cigar Cabernet Sauvignon 2016 is available at Majestic (£25.99, or £19.99 in a buy six deal). I tasted the 2017 vintage alongside Louisa (in a virtual sense) and I relished its delicious full-bodied notes of strawberries, cherries and blackberries. New oak brings along flecks of spice and a vanilla warmth.
It's a worthy, wonderful wine, to conclude a celebration of women's talent.
Jane Clare is One Foot in the Grapes, an approved programme provider for the Wine & Spirit Education Trust. Discover how to interpret a wine list, or create food and wine pairings. [email protected]
I'm nipping to California (if only) to bring you this wine created by winemaker Jill Russell.
Cambria Katherine's Vineyard Chardonnay 2017 (RRP £20, online at simplywinesdirect.uk) is a celebration of the delicious journey a chardonnay can take in California. The wine has spent six months in oak, some of it new, but it isn't shouty.
Freshly sliced green apples say hello, then fruits with an apple crumble character raise their hands in greeting. Tropical fruit and citrus notes are pretty keen to be involved in the palate party.
The proprietor of Cambria Estate Winery is Barbara Banke; the wine is named after one of her daughters, Katie Jackson; and its made by Jill. Girl power!